Faculty Profile
Elyse Rosenbaum
Electrical and Computer Engineering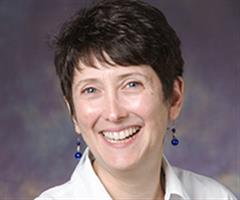 Elyse Rosenbaum
Bliss Scholar (2004-2007)

Professor
Electrical and Computer Engineering
407 Coordinated Science Lab MC 228
1308 W. Main St.
Urbana Illinois 61801
(217) 333-6754
Administrative Titles
Bliss Scholar (2004-2007)
Affiliation
Electrical and Computer Engineering
Education
Ph.D., Electrical Engineering, University of California, Berkeley, Dec. 1992
Biography
Elyse Rosenbaum received the B.S. degree (with distinction) from Cornell University in 1984, the M.S. degree from Stanford University in 1985, and the Ph.D. degree from the University of California, Berkeley in 1992. From 1984 through 1987, she was a Member of Technical Staff at AT&T Bell Laboratories in Holmdel, NJ. She is currently a Professor in the Department of Electrical and Computer Engineering at the University of Illinois at Urbana-Champaign. Dr. Rosenbaum is a Fellow of the IEEE. She has been the recipient of a Best Student Paper Award from the IEDM, Outstanding and Best Paper Awards from the EOS/ESD Symposium, a Technical Excellence Award from the SRC, an NSF CAREER award, and an IBM Faculty Award. From 2001 through 2011 she was an editor for IEEE Transactions on Device and Materials Reliability. She is currently an editor for IEEE Transactions on Electron Devices. Dr. Rosenbaum is the technical program chair for the 2016 International Reliability Physics Symposium.
Dr. Rosenbaums present research interests include component and system-level ESD reliability, mitigation strategies for ESD-induced soft failures, transient latch-up, ESD-robust high-speed I/O circuit design, compact modeling of on-chip ESD protection devices, and machine-learning aided behavioral modeling of microelectronic components and systems. She has authored or co-authored over 150 technical papers.
For more information
Graduate Research Opportunities
Research opportunities exist for students with interests in device physics, circuit design and electromagnetics. Students must have good communication skills and an electrical engineering background.
Research Interests
System-level ESD reliability Component and system-level ESD reliability Mitigation strategies for ESD-induced soft failures Transient latch-up ESD-robust high-speed I/O circuit design Compact modeling of on-chip ESD protection devices Machine-learning aided behavioral modeling of microelectronic components and systems
Research Areas
Device modeling
Digital integrated circuits
Integrated circuit reliability
Semiconductor electronic devices
Research Honors
IEEE Fellow for "contributions to electrostatic discharge reliability of integrated circuits," 2011