Faculty Profile
Xinlei Wang
Agricultural and Biological Engineering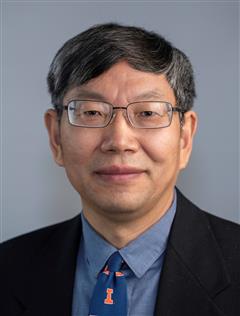 Professor
332 C Agricultural Engr Sciences Bld
1304 W. Pennsylvania
Urbana Illinois 61801
(217) 333-4446
Primary Research Area
Bioenvironmental Engineering
Education
Ph.D., Agricultural Engineering, University of Illinois Urbana Champaign, 2000
M.S., Agricultural Engineering, University of Saskatchewan, 1996
M.S., Mechanical Engineering, Zhejiang University, 1987
B.S., Mechanical Engineering, Zhejiang University, 1984
Academic Positions
Professor, 2014-Date, Agricultural & Biological Engineering Department, University of Illinois Urbana Champaign
Associate Professor, 2008-2014, Agricultural & Biological Engineering Department, University of Illinois Urbana Champaign
Assistant Professor, 2002-2008, Agricultural & Biological Engineering Department, University of Illinois Urbana Champaign
Senior Engineer, 2000-2002, International Truck and Engine Corporation, Melrose Park, IL
Post-Doctoral Research Associate, Jan-Sep 2000, Agricultural Engineering Department, University of Illinois Urbana Champaign
Research Assistant, 1996-1999, Agricultural Engineering Department, University of Illinois Urbana Champaign
Research Assistant, 1994-1996, University of Saskatchewan, Canada
Lecturer, 1987-1994, Department of Energy Engineering, Zhejiang University, China
For more information
Research Interests
Air quality and environmental control: measurement, modeling and control of airborne contaminant
Emission control from diesel engines: modeling and control strategy development
Renewable Energy Systems and Applications, Solar Decathlon
Heating ventilation and air conditioning system simulation and control
Research Areas
Bioenvironmental Engineering
Selected Articles in Journals
Fabrication of a sensitive gas sensor based on PPy/TiO2 nanocomposites films by layer-by-layer self-assembly and its application in food storage Cui, S., Yang, L., Wang, J. & Wang, X. Oct 5 2016 In : Sensors and Actuators, B: Chemical. 233, p. 337-346 10 p.
Impact of diesel emission fluid soaking on the performance of Cu-zeolite catalysts for diesel NH3-SCR systems Yao, D. W., Wu, F. & Wang, X. L. Jan 1 2016 In : Journal of Zhejiang University: Science A. 17, 4, p. 325-334 10 p.
A method for developing a prediction model of water-side fouling on enhanced tubes Shen, C., Cirone, C. & Wang, X. 2015 In : International Journal of Heat and Mass Transfer. 85, p. 336-342 7 p.
Concentration, size, and density of total suspended particulates at the air exhaust of concentrated animal feeding operations Yang, X., Lee, J., Zhang, Y., Wang, X. & Yang, L. 2015 In : Journal of the Air and Waste Management Association. 65, 8, p. 903-911 9 p.
Discrimination of American ginseng and Asian ginseng using electronic nose and gas chromatography-mass spectrometry coupled with chemometrics Cui, S., Wu, J., Wang, J. & Wang, X. Apr 7 2015 In : Journal of Ginseng Research.
Honors
Sustainability Fellow, UIUC, 2013
Teacher Fellow Award, North American Colleges and Teachers in Agriculture, 2013
Academy of Teaching Excellence, College of Agricultural, Consumer, and Environmental Sciences, University of Illinois, 2012 - 2015
Faculty Award for Excellence in Teaching, College of Agricultural, Consumer, and Environmental Sciences, University of Illinois, 2012
Distinguished Service Award, American Society of Heating, Refrigeration and Air-conditioning Engineers, 2011
Honorable Mention Paper Award, American Society of Agricultural and Biological Engineers, 2010
Everitt Award for Teaching Excellence, College of Engineering, University of Illinois, 2010
University of Illinois Presidents Citation in Recognition of Clean Diesel Bus project, 2010
Ben and Georgeann Jones Excellence in Teaching Awards, Department of Agricultural and Biological Engineering, UIUC, 2009
Global Scholar, College of ACES, 2006
Honorable Mention Paper Award, American Society of Agricultural and Biological Engineers, 2006
J. Kent Mitchell Teaching Excellence Award, University of Illinois, Department of Agricultural and Biological Engineering, 2006
Incomplete List of Teachers Ranked as Excellent by Their Students, UIUC, Fall 2005, Spring, 2006, Fall 2006
ASHRAE Annual Paper Award, American Society of Heating, Refrigeration and Air-conditioning Engineers, 2001
Gamma Sigma Delta, inducted 1998
Alpha Epsilon, inducted 1997