Faculty Profile
Yann Robert Chemla
Physics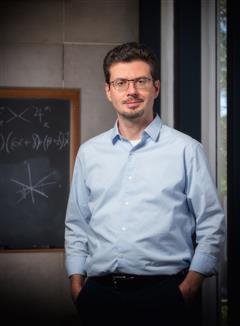 Associate Professor
161 Loomis Laboratory MC 704
1110 W. Green St.
Urbana Illinois 61801
(217) 333-6501
Primary Research Area
Biological Physics - Biological Physics (experimental)
Education
Ph.D., Physics, University of California-Berkeley, 2001
Biography
Professor Yann Chemla received his PhD. in physics from the University of California, Berkeley in 2001. As an experimentalist in applied superconductivity, he developed an interest in biology through his study of magnetotactic bacteria with a superconducting magnetometer (Chemla et al., Biophys J., 1999), and the development of a biosensor based on functionalized magnetic nanoparticles (Chemla et al., PNAS, 2000). Prof. Chemla made the "leap" to biophysics as a postdoctoral fellow, moving down the hall to Prof. Carlos Bustamante's laboratory at Berkeley. There, he learned the techniques of single-molecule manipulation and used an optical trap to study viral DNA packaging (Chemla et al., Cell, 2005). In 2005, he received one of the prestigious Career Awards at the Scientific Interface (CASI) from the Burroughs-Wellcome Fund. He joined the Department of Physics at Illinois in January 2007.
For more information
Research Statement
The cell is a factory of complex molecular structures that carry out specialized mechanical tasks and that behave remarkably like machines. Molecular motors, as they are called, are involved in such diverse processes as replicating the genome or transporting cargo across the cell, typically moving in discrete steps along a track actin, microtubules, or DNA itself converting chemical energy into mechanical work. A broad area of interest in my laboratory will be understanding the mechanism by which these molecular machines operate, and specifically, the process of mechano-chemical conversion.
Biophysical techniques that can detect such processes at the level of a single molecule are extremely powerful, since they are not subject to the averaging artifacts of traditional bulk biochemical methods. Optical traps, or optical tweezers, which utilize the force generated by focused laser light to manipulate microscopic objects, have been used extensively to measure the movements and forces exerted by individual molecular motors.
Recently, advances to this technique have made it possible to resolve motions on the scale of a single base pair of DNA, or only 3.4(see for example, Moffitt et al., PNAS, 2006). These high-resolution optical trapping techniques have the potential to reveal, for the first time, the stepwise motions of a host of molecular motors that translocate along or interact with nucleic acids and proteins. Access to this length scale should lead to a more detailed and refined understanding of many fundamental processes.
Students in my laboratory will work on all facets of research in this area: design and construction of instrumentation, development of biological systems for single-molecule manipulation, and quantitative analysis and modeling of collected data. Interested students and postdocs with backgrounds in physics, biology, chemistry, or related fields are welcome to contact me.
Research Areas
Chapters in Books
Whitley K.D., Comstock M.J., Chemla Y.R. (2016) "High-Resolution "Fleezers": Dual-trap Optical Tweezers Combined with Single-Molecule Fluorescence Detection" in Optical Tweezers (Arne Gennerich Ed.), Springer.
Chemla, Y.R., Smith, D.E., Single-molecule studies of viral DNA packaging. In Viral Molecular Machines (V. Rao & M. Rossman, eds.) Springer, New York, NY (2011)
C. Bustamante, Y.R. Chemla, J.R. Moffitt. High resolution dual trap optical tweezers with differential detection. In Single Molecule Techniques: A Laboratory Manual (P. Selvin & T.J. Ha, eds.) Cold Spring Harbor Laboratory Press, Woodbury NY. (2007)
Selected Articles in Journals
Chemla, Y.R. (2016) "High-resolution, hybrid optical trapping methods and their application to nucleic acid processing proteins" Biopolymers. 105(10):704-14
Chowdhury, F., Li, I.T., Ngo, T.T., Leslie, B.J., Kim, B.C., Sokoloski, J.E., Weiland, E., Wang, X., Chemla, Y.R., Lohman, T.M., Ha, T. (2016) "Defining Single Molecular Forces Required for Notch Activation Using Nano Yoyo" Nano Lett. 16(6):3892-7
Wang, X., Rahil, Z., Li, I.T., Chowdhury, F., Leckband, D.E., Chemla, Y.R., Ha, T. (2016) "Constructing modular and universal single molecule tension sensor using protein G to study mechano-sensitive receptors" Sci. Rep. 6:21584.
Girdhar K., Gruebele M., Chemla Y.R. (2015) "The Behavioral Space of Zebrafish Locomotion and Its Neural Network Analog." PLoS One. 10(7):e0128668
Suksombat S., Khafizov R., Kozlov A.G., Lohman T.M., Chemla Y.R. (2015) "Structural dynamics of E. coli single-stranded DNA binding protein reveal DNA wrapping and unwrapping pathways." eLife, 4:e08193
Comstock M.J., Whitley K.D., Jia H., Sokoloski J., Lohman T.M., Ha T., Chemla Y.R. (2015) "Direct observation of structure-function relationship in a nucleic acid-processing enzyme" Science 348(6232):352-354
Arslan S., Khafizov R., Thomas C.D., Chemla Y.R., Ha T. (2015) "Engineering of a superhelicase through conformational control" Science 348(6232):344-347
Koirala S., Mears P., Sim M., Golding I., Chemla Y.R., Aldridge P.D., Rao C.V. (2014) "A Nutrient-Tunable Bistable Switch Controls Motility in Salmonella enterica Serovar Typhimurium" MBio 5(5). pii: e01611-14.
Mears, P.J., Koirala, S., Rao, C.V., Golding, I., Chemla, Y.R. (2014) "Escherichia coli swimming is robust against variations in flagellar number" eLife, 3:e01916
Qi, Z., Pugh, R., Spies. M., Chemla, Y.R. (2013) "Sequence-Dependent Base-Pair Stepping Dynamics in XPD Helicase Unwinding" eLife, 2:e00334
Blehm, B., Schroer, T.A, Trybus, K.M, Chemla, Y.R., Selvin, P.R. (2013) "In vivo optical trapping reveals kinesin drags dynein during intracellular transport" PNAS. 110(9):3381-6.
Landry, M.P., Zou, X., Wang, L., Huang, W.M., Schulten, K., Chemla, Y.R. (2013) "Protein-DNA target search mechanisms for dimer-active protein complexes" Nucleic Acids Res. 41(4):2416-27.
Kottadiel, V.I., Rao, V.B., Chemla, Y.R. (2012) "The dynamic pause-unpackaging state, an off-translocation recovery state of a DNA packaging motor from bacteriophage T4", PNAS 109(49):20000-5
Min, T.L., Mears, P.J., Golding, I., and Chemla, Y.R. (2012) "Chemotactic adaptation kinetics of individual Escherichia coli cells", PNAS, 109(25):9869-74
Girdhar, K., Scott, G., Chemla, Y.R., Gruebele, M. (2011) "Better biomolecule thermodynamics from kinetics" J Chem Phys. 135(1):015102.
Comstock, M.J., Ha, T., Chemla, Y.R. (2011) "Ultrahigh-resolution optical trap with single-fluorophore sensitivity" Nature Methods. 8(4):335-40
Zhang, Z., Kottadiel, V.I., Vafabakhsh, R., Dai, L., Chemla, Y.R., Ha, T., Rao, V.B. (2011) "A promiscuous DNA packaging machine from bacteriophage t4." PLoS Biol. 9(2):e1000592.
Saini, S., Koirala, S., Floess, E., Mears, P.J., Chemla, Y.R., Golding, I., Aldridge, C., Aldridge, P.D., Rao, C.V. (2010) "FliZ induces a kinetic switch in flagellar gene expression" J. Bacteriol. 192(24):6477-81
Moffitt, J.R., Chemla, Y.R., Bustamante, C. (2010) "Mechanistic constraints from the substrate concentration dependence of enzymatic fluctuations", PNAS, 107(36), 15739-44
Moffitt, J.R., Chemla, Y.R., Bustamante, C. (2010) "Methods in Statistical Kinetics", Methods Enzymol., 475, 221-57
Liu, Y., Dahmen, K.A., Chemla, Y.R., Ha, T., "A comparative study of multivariate and univariate hidden Markov modelings in time-binned single-molecule FRET data analysis", J. Phys. Chem. B, 2010, 114(16), 5386-403.
Chemla, Y.R., (2010) "Revealing the base pair stepping dynamics of nucleic acid motor proteins with optical traps" Phys. Chem. Chem. Phys., 12(13), 3080-3095
Min, T.L. Mears, P.J., Chubiz, L.M., Rao, C.V., Golding, I., Chemla, Y.R., (2009) "High-resolution, long-term characterization of bacterial motility using optical tweezers" Nature Methods. 6(11):831-835
Landry, M.P., McCall, P.M., Qi, Z., Chemla, Y.R. (2009) "Characterization of photoactivated singlet oxygen damage in single-molecule optical trap experiments", Biophys. J. 97(8), 2128-2136
Aathavan, K., Politzer, A.T., Kaplan, A., Moffitt, J.R., Chemla, Y.R., Grimes, S., Jardine, P.J., Anderson, D.L., Bustamante, C. (2009) "Substrate Interactions and Promiscuity in a Viral DNA Packaging Motor" Nature, 461, 669-673.
Ibarra, B., Chemla, Y.R., Plyasunov, S., Smith, S.B., Lázaro, J.M., Salas, M., Bustamante C. (2009) "Proofreading Dynamics of a Processive DNA Polymerase" EMBO J. 28, 2794–2802.
Honors
Dean's Award for Excellence in Research, University of Illinois, Urbana-Champaign (2016)
University of Illinois Willett Faculty Scholar Award (2015)
Center for Advanced Study (2012)
Sloan Research Fellowship (2010)
NSF CAREER Award (2010)
Career Awards at the Scientific Interface (CASI), Burroughs-Wellcome Fund (2005)