News
Transform Your World at Engineering Open House, March 14-15
2/26/2014
"Transform Your World" is the theme for 94th annual Engineering Open House (EOH) at the University of Illinois at Urbana-Champaign. The annual showcase of student projects and engineering marvels runs from 9:00 a.m. to 4:00 p.m. on Friday, March 14, and from 9:00 a.m. to 3:00 p.m. on Saturday (Family Day—for all ages) on March 15, on the Engineering Campus.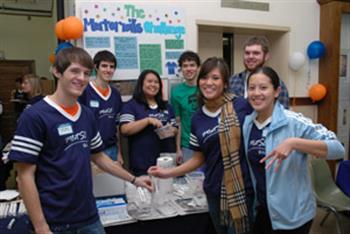 In addition to more than 250 exhibits ranging from concrete crushing to Non-Newtonian fluid demonstrations, this year's EOH offers a few special attractions including an elaborate dorm room fire demonstration by the Champaign Fire Department, a talk by Rice University Professor James McLurkin--a leader in the field of robotics--and the AMD Jerry Sanders Creative (robotics) Design Competition! All events and exhibits are free and open to the public.
This two-day event, attracting approximately 20,000 visitors each year, is organized and run by students from the Engineering Council at Illinois. Both interactive and informative, the comprehensive list of exhibits will be a fun learning experience for the whole family. A free mobile phone app, created by current and past Illinois engineering students, specifically for EOH, includes exhibit details, building information, maps, and more, can be downloaded from the EOH website.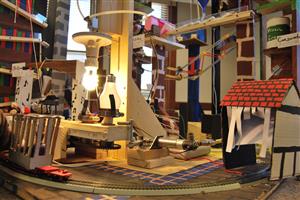 On Friday, twenty
high school teams
will compete to see which team can build the most entertaining and wackiest Rube Goldberg machine that can zip a zipper. The
Middle School Design Competition
will also be held on the same day for 6th-8th graders to test their skills at solving engineering problems.
The AMD Jerry Sanders Creative Design Competition is a two-day national robotics challenge that attracts engineering students from across the country—plus teams from India and Mexico—whose robots fight it out for pride and prizes. This year's challenge, held on a large course inside Kenny Gym, features a game of territories played with soccer cones and balls guaranteeing lots of action in a fun atmosphere.
"Engineering Creativity" is the subject of this year's guest speaker, renowned roboticist
James McLurkin
, who will discuss the connections between creativity and engineering, while demonstrating cutting-edge technology with his own robots. Doors open at 6:30 p.m. for the free presentation at the Foellinger Auditorium. Because seating is limited, tickets are required for admission. The tickets will be given out every hour on the hour from 9:00 a.m.-4:00 p.m. on Friday at the EOH Visitors Welcome Center outside of Grainger Library.
For those interested in engineering education programs at Illinois, the College of Engineering will hold several Dean's Sessions throughout the day where admitted and prospective students can talk to a dean and get answers to any queries they might have Engineering at Illinois. There will also be an Engineering Department EXPO for those interested in finding out more about the various departments in the College of Engineering.
Parking is available and is free to the public. Directions for parking can be found on the EOH website (http://eoh.ec.illinois.edu). From the parking area, visitors can board a free shuttle that stops at the Visitor Center and the design contest locations, along with stops at ExplorACES and the College of Applied Health Sciences events on campus. For more information on 94th annual Engineering Open House, visit http://eoh.ec.illinois.edu.