Faculty Profile
Can Bayram
Electrical and Computer Engineering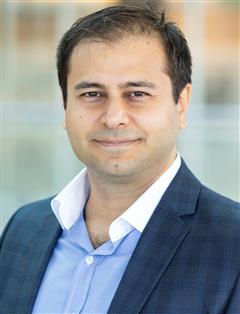 Assistant Professor
Electrical and Computer Engineering
3264 Micro and Nanotechnology Lab
208 N. Wright Street
Urbana Illinois 61801
(217) 300-0978
Affiliation
Electrical and Computer Engineering
Primary Research Area
Microelectronics and Photonics
Education
Ph.D. in Electrical Engineering and Computer Science, Northwestern University, 2011
Biography
Prof. Can Bayram is an Assistant Professor in the Department of Electrical and Computer Engineering of University of Illinois at Urbana-Champaign, IL, USA. He is an expert in III-V materials and photonic and electronic devices. He has performed more than 3,000+ epitaxial growths with metalorganic chemical vapor deposition (MOCVD) systems and fabricated detectors, light emitting diodes, solar cells, resonant tunneling diodes, and transistors in class 100 and 1000 cleanrooms totaling 20,000+ hrs equipment usage. His current research interests lie in the intersection of novel III-V materials, hetero-structures, and photonic and electronic quantum devices. Particularly, his research group at UIUC explores novel materials, devices, and their 3D hetero-integration (on unconventional platforms such as graphene and silicon) and investigates heat transport across/through semiconductors; efficiency droop mechanisms and remedies in AlInGaN emitters; and ultra-fast THz photonics/electronics. Prof. Bayrams work has been recognized widely. He is the recipient of the 2018 IEEE Nanotechnology Council Early Career Award, a 2018 Dean's Award for Excellence in Research for Assistant Professor, a 2017 NSF CAREER Award, a 2016 AFOSR Young Investigator Award, the 2014 IEEE Electron Devices Society Early Career Award, and the Best Paper Award at the 11th International Conference on Infrared Optoelectronics.
Prof. Bayram is an affiliate faculty of Micro and Nanotechnology Laboratory. He has (co-) authored 41 journal papers (h-index ≥ 21), 33 conference proceeding papers, 2 book chapters, and has ≥ 45 patents issued/pending. For his achievements in ultraviolet-to-terahertz engineering of III-V semiconductor materials and devices, SPIE and IEEE recognized him with senior member status.
Prof. Bayram worked as a Postdoctoral Research Scientist in the Silicon Technologies Division at the IBM Thomas J. Watson Research Center, Yorktown Heights, NY, USA from 2011 till 2014. His postdoctoral work at IBM on a novel means of thin film technology achieved record-breaking specific power solar cells and was featured on the cover of Advanced Energy Materials. He has - for the first time - integrated GaN-based devices on CMOS-compatible silicon substrates. This work was highlighted as the frontispiece in the Advanced Functional Materials issue.
Prof. Bayram received the Ph.D. degree from Prof. Manijeh Razeghi, Center for Quantum Devices, EECS of Northwestern University, IL, USA with a focus on Solid State and Photonics in 2011. His thesis work has demonstrated the first ultraviolet regime single photon detection, the first hybrid LED, and the first GaN intersubband devices. He received IEEE Electron Devices and IEEE Photonics Societies' fellowship awards and the Laser Technology, Engineering and Applications Award from SPIE. He was an IBM and Link Foundation PhD fellow and the recipient of Boeing Engineering and Dow Sustainability Innovation awards.
For more information
Teaching Statement
Fundamental concepts in semiconductors are essential in understanding everyday electronic and photonic devices. I believe the undergraduate education should provide a solid foundation in semiconductors and useful solid state devices. My goal as an instructor is to get students explain the behavior of devices from the atomic scale up. I achieve this via first motivating the class for the big picture then focusing on the atomic scale and describing what leads to macroscopic effects observed in the devices. By building up the device behavior through atomic engineering, students tend to understand the main fundamentals that govern everyday semiconductor devices.
It is notable that fundamentals of physics, engineering, and science remain almost the same since decades; however, their applications which I deem most important as an engineering faculty diverse speedily. I see my role as a faculty not only to teach the fundamentals to the students but also making them aware of the many out-there opportunities in the world. I believe, in the face of constantly developing technology, one way to enable this is updating the teaching material. My goal is showing the students that microelectronics and photonics area is beyond the conventional applications in solid state devices and it is critical to bring this area into new fields of excitement and the excitement into the classroom.
I firmly believe teaching and research go hand-in-hand. Hence I provide real-life examples to students. I believe that students need to leave their comfort zone and extend their reach. I also believe as a faculty it is my responsibility to enable students reach so that they can benefit from the existing knowledge and create a unique approach for their own work. This is especially important for graduate students.
Research Statement
We innovate next generation photonic and micro/nano-electronic devices through combination of solid state physics, device design/simulation, micro/nano-fabrication, and device measurement/analysis. We particular focus on Aluminum Indium Gallium Nitride compound semiconductor devices including light emitting diodes and transistors. Our work particularly pushes the limits of energy-efficient, green, and reliable devices for advanced applications. See our research webpage (icorlab.ece.illinois.edu) for details.
Post-Doctoral Research Opportunities
Our group currently has an opening for a postdoctoral researcher who has HANDS-ON experience in the micro/nano-fabrication of compound semiconductor devices (including light emitting diodes and transistors based on GALLIUM NITRIDE devices) in a cleanroom environment. Postdoctoral candidates are encouraged to contact Prof. Can Bayram directly via email (and should attach their CV and the contact information for at least two references) for consideration. The position is now open until filled.
Graduate Research Opportunities
We welcome highly motivated graduate students - with interest in compound semiconductor devices - join our research group. Our on-going projects are focused on photonics (e.g. light emitting diodes) and micro/nano-electronics (e.g. transistors). Further details can be found at our group webpage (icorlab.ece.illinois.edu). Our graduate students are recognized internally (as UIUC College of Engineering Yunni & Maxine Pao Memorial Fellows, UIUC ECE Ernest A. Reid Fellows, UIUC ECE Nick and Katherine Holonyak, Jr. Outstanding Research Awardees), nationally (as NSF Graduate Research Fellows, NASA Space Technology Research Fellows) and internationally (as Conference Best Paper Awardees, Conference Travel Grantees). Incoming and/or interested graduates are encouraged to browse our group webpage and contact Prof. Can Bayram directly via email (and should attach their CV and unofficial UG/GRAD transcripts). Our lab is located in the Micro and Nanotechnology Laboratory and is in the Department of Electrical and Computer Engineering.
Undergraduate Research Opportunities
Our group invites highly motivated ECE and Engineering Physics undergraduates, currently enrolled at our University of Illinois at Urbana-Champaign, to join our research team. Particularly, students who (wishes to) have experience in semiconductor devices and who are passionate about creating next generation photonic and micro/nano-electronic devices are welcomed. Historically, students who joined our research team as early as in their freshman/sophomore years have been later recognized internally (as UIUC College of Engineering Scholars, UIUC Campus Honors Program Summer Research Grantees, UIUC ECE Robert C. MacClinchie Scholars, UIUC ECE Michael E. Napier Memorial Awardees. UIUC MATSCI Alfred W. Allen Awardees, UIUC MATSCI Earl J. Eckel Scholars, UIUC ECE Distinguished Research Fellows, UIUC ECE Distinguished Fellows) and externally (as Goldwater Scholars, NSF Graduate Research Fellows). UG researchers are expected to perform (at least one semester) summer research in our group. Please contact Prof. Can Bayram directly via email (and attach your CV and unofficial transcript showing your courses) to inquire about our any position/project openings.
Research Interests
III-Nitride Devices
Solid State Lighting & Light Emitting Diodes
Next Generation Electronics & Gallium Nitride Transistors
Flexible Devices for Therapeutic Applications
Heterointegrated Devices for Advanced Applications
Research Areas
Efficient energy management and conversion for lighting, communications, information technology, transportation, and appliances
Energy storage conversion, management, and control
Gallium nitride power semiconductors
Microcavity lasers and nanophotonics
Microelectromechanical systems (MEMS)
Microelectronic and photonic device modeling
Microelectronics and Photonics
Microwave devices and circuits
Microwave integrated circuits
Millimeter wave integrated circuits
Nano-electronics and single electronics
Nano-materials
Nano-photonics
Photonic crystals
Photonic integrated circuits (PICs)
Quantum nanostructures for electronics and photonics
Semiconductor electronic devices
Semiconductor lasers and photonic devices
Semiconductor materials
Sensors
Research Topics
Beyond CMOS
Charge particle physics and engineering
Micro & nanoelectromechanical M/NEMS integrated systems
Photonics: optical engineering and systems
Quantum optics, cryptography, information, and computing
RF and microwave engineering
Semiconductor devices and manufacturing
Solar and renewable technology
Professional Societies
Member 2005-present Optical Society of America (OSA)
Member 2008-present Materials Research Society (MRS)
Member 2008-present American Physical Society (APS)
Member 2009-present American Association for the Advancement of Science
Member 2009-present Electrochemical Society (ECS)
Senior Member 2013-present SPIE Society (member since 2006)
Senior Member 2016-present IEEE Society (member since 2005)
Senior Member 2016-present IEEE Photonics Society (member since 2007)
Senior Member 2016-present IEEE Electron Devices Society (member since 2009)
Service on University Committees
MNTL Search Committee / Diversity Advocate, Grants and Contracts Specialist, 2017/09 to 2018/03
Mentor, ARISE (Academic Redshirt in Science and Engineering) Program, 2017 present
MNTL Search Committee, Visiting Research Scientist, 2017/04 to 2017/07
MNTL Search Committee / Diversity Advocate, MOCVD Research Engineer Position, 2016/04 to present
MNTL Search Committee Chair, Cleanroom Manager Position, 2015/12 to 2016/10
MNTL Search Committee / Diversity Advocate, Research Engineer Position, 2015/04 to 2016/06
MNTL Equipment Committee Chair, 2015/01 to present
Service on Department Committees
ECE Town Hall Panelist, 2017 Fall
Andrew T. Yang Research and Entrepreneurship Award Reviewer, 2017
ECE Curriculum Committee, 2014 Fall to present
ECE Colloquium Committee, 2014 Fall to present
Service to Federal and State Government
German Research Foundation, 2018
Croatian Science Foundation, 2017
French National Research Agency (ANR), 2017
Singapore National Research Foundation, 2017
National Science Foundation (NSF), 2018, 2017, 2013
Advanced Research Projects Agency Energy (ARPA-E), 2018, 2017
Air Force Office of Scientific Research (AFOSR), 2017, 2016
Israeli Ministry of Science, Technology and Space, 2017
Dutch Research Council, 2016
European Research Council (ERC), 2015
Department of Energy (DOE), 2012
Teaching Honors
Research Honors
IEEE Nanotechnology Council Early Career Award (2018)
Dean's Award for Excellence in Research for Assistant Professor (2018)
CS MANTECH Best Student Paper Award (Mr. Richard Liu) (2017)
NSF CAREER Award (2017)
AFOSR Young Investigator Award (2016)
IEEE Society Senior Membership (2016)
IEEE Electron Devices Society Early Career Award (2014)
FRONTISPIECE COVER - "Cubic Phase GaN on Nano-grooved Si (100) via Maskless Selective Area Epitaxy" in the Advanced Functional Materials journal (2014)
SPIE Society Senior Membership (2013)
IBM Invention Achievement Awards (2013, 2013, 2014)
INSIDE COVER - "Ultra-Light High-Efficiency Flexible InGaP/(In)GaAs Tandem Solar Cells on Plastic", in the Advanced Energy Materials journal (2013)
Best Paper Award at Infrared Optoelectronics Materials and Devices Conference, MIOMD-XI (2012)
IBM Ph.D. Fellowship (2010)
Link Foundation Energy Fellowship (2010)
IEEE Electron Devices Society PhD Fellowship (2010)
Boeing Engineering Student of the Year (2009)
IEEE Photonics Society Graduate Student Fellowship (2009)
SPIE Laser Technology, Engineering and Applications Scholarship (2009)
Ludo Frevel Crystallography Scholarship (2009)
Dow Sustainability Innovation Award (2008)
IEEE Ultrasonics, Ferroelectrics, and Frequency Control Society Travel Award (2005)
Public Service Honors
Docent (Associate Professor) title in Electrical Engineering from the Turkish Council of Higher Education (2014)