Faculty Profile
Kejie Fang
Electrical and Computer Engineering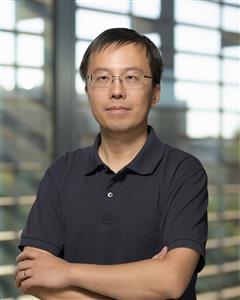 Assistant Professor (SP18)
Primary Research Area
Microelectronics and Photonics
Education
Ph.D. Physics, Stanford University, 2013
Academic Positions
Postdoctoral Scholar, Caltech, 2013-2016
Senior Research Scientist, Caltech, 2016-2017
Post-Doctoral Research Opportunities
Our group has an opening for postdoctoral researcher with background in photonics at large, and ideally but not required with micro- and nano-fabrication experiences. Please contact Prof. Fang (kfang3@illinois.edu) for more details.
Graduate Research Opportunities
We welcome highly motivated students to join our group. Our research intersects with several fields of science and engineering including nanophotonics, NEMS, and quantum optics, and offers rich opportunities for graduate researchers to be trained in device physics, fabrication, and testing. Incoming or interested students should contact Prof. Fang (kfang3@illinois.edu) with a complete CV, accompanied by a short paragraph highlighting relevant practical experience and coursework.
Research Interests
Nanophotonic devices
Optomechanics
Quantum photonics
Nonlinear photonics
Research Areas
Microelectronics and Photonics
Nano-electro mechanical systems (NEMS)
Nano-photonics
Photonic crystals
Photonic integrated circuits (PICs)
Quantum nanostructures for electronics and photonics