Faculty Profile
Kiruba Sivasubramaniam Haran
Electrical and Computer Engineering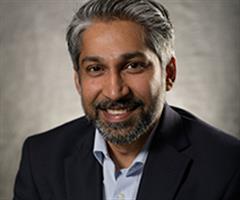 Kiruba Sivasubramaniam Haran
Associate Professor
Electrical and Computer Engineering
4048 ECE Building
306 North Wright Street
Urbana Illinois 61801
(217) 244-1838
Affiliation
Electrical and Computer Engineering
Primary Research Area
Power and Energy Systems - Electrical machines and drive systems
Education
Ph.D., Electric Power Engineering, Rensselaer Polytechnic Institute (2000)
B.Sc., Electronic and Electrical Engineering, Obafemi Awolowo University, Nigeria (1994)
For more information
Research Areas
Electric transportation
Electrical machines and drive systems
Research Topics
Autonomous vehicular technology, UAVs
Electric transportation
Solar and renewable technology
Storage and conversion
Selected Articles in Journals
Loder, D., Feddersen, M., Sanchez, R., Haran, K., Sumption, M., Kovacs, C., Majoros, M., Collings, E.W., Doll, D., Peng, X. and Yue, J., "Demonstration of a Practical Nb3Sn Coil for an Actively Shielded Generator", IEEE Transactions on Applied Superconductivity, 27(4), pp.1-7. (2017)
Harmukh, Sajal Kumar, Kiruba S. Haran, S. Salon, and Jan Stein. "Root Cause Analysis Of Arcing In Retaining Rings Of Turbogenerators." IEEE Transactions on Industry Applications (2016).
K. S. Haran, D. Loder, T. O. Deppen and L. Zheng, "Actively Shielded High-Field Air-Core Superconducting Machines," in IEEE Transactions on Applied Superconductivity, vol. 26, no. 2, pp. 98-105, (2016).
Bray, J. W., R. Fair, and K. Haran. "Wind and Ocean Power Generators." Applied Superconductivity, IEEE Transactions on 24.3: 1-7. (2014)
Stautner, W; Mine, S.; Sivasubramaniam, K.; Amm, K., A Cryo-Free 10 T High-Field Magnet System for a Novel Superconducting ApplicationExperimental Results, IEEE Transactions on Applied Superconductivity, vol. 22, no. 3, June 2012
Sivasubramaniam, K.; Zhang, T.; Lokhandwalla, M.; Laskaris, E.T.; Bray, J.W.; Gerstler, B.; Shah, M.R.; Alexander, J.P., Development of a High Speed HTS Generator for Airborne Applications, IEEE Transactions on Applied Superconductivity, Volume 19, Issue 3, Part 2, June 2009.
Articles in Conference Proceedings
Sanchez, Reed; Yi, Xuan; Chen, Yuanshan; Zheng, Lijun; Haran, Kiruba, "Mechanical Validation of High Power Density Rotor", IEMDC 2017
Renner, Nathaniel James; Lenz, Jackson David; Haran, Kiruba Sivasubramaniam, "Development of Form-Wound Air-Core Armature Windings for High Frequency Electric Machines", IEMDC 2017
Yi, Xuan; Yoon, Andy; Haran, Kiruba, "Multi-Physics Optimization for High-Frequency Air-Core Permanent-Magnet Motor of Aircraft Application", IEMDC 2017
X. Zhang, K. Haran, "High-Specific-Power Electrical Machines Challenges and Technologies", ECCE 2016
D. Loder, R. Sanchez, M. Feddersen, K. Haran, "Optimal Configuration for a High Specific Power Superconducting Machine", ASC 2016
David Loder, K. S. Haran, "Novel Superconducting Machine with Auxiliary Field Windings", IEMDC 2015
Invited Lectures
High Frequency Aircore Machine & Drive. Special Session on Hybrid Propulsion Concept Development for Transport Class Aircraft at AIAA SciTech, 2017.
Keynote: Electric Propulsion for Commercial Transport Aircraft. IEEE ICIAfS, 2016.
High specific power machines and drives for electric propulsion. AIAA Aircraft Electric/Hybrid-Electric Power & Propulsion Workshop, 2016.
Superconducting machines for future electric aircraft. More Electric Aircraft USA, 2016.
Key Electrical Technologies: Design and Test of Superconducting Electric Machines for Airborne Application. 2nd Bauhaus Luftfahrt Symposium Aviation 2050 Shaping the Future, 2015.
1MW Non-cryogenic Motor. AFRL, Wright Patterson Air Force Base.
Journal Editorships
Guest Editor, Special Issue on: Electric and Hybrid Electric Propulsion for Aviation, IET Electric Power Applications Journal
Editor, IEEE Transactions on Energy Conversion, 2015 -
Teaching Honors
List of Teachers Ranked as Excellent by Their Students - ECE 330 Electromechanics and Power Circuits (2016)
Research Honors
AIAA Associate Fellow (2019)
IEEE PES Distinguished Lecturer (2017)
Grainger Associate (2016)
Leading Edge Aeronautics Research for NASA Award (2015)
IEEE Fellow (2014)
GE Gold Medallion Patent Award (2013)
GE Power Conversion Systems Technical Achievement Award (2010)
GE Chief Engineers Award (2008)
Asian Pacific American Researcher of the Year (2007)
Hull Award, GE Global Research (2006)
National Academy of Engineers' Frontiers of Engineering Symposium (2005)
GE Power Systems Engineering Award (2002)
Allen B. Dumont Prize, Rensselaer Polytechnic Institute (2000)