Faculty Profile
C Tyler Dick
Civil and Environmental Engineering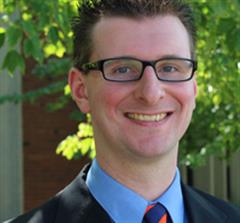 Senior Research Engineer
1241 Newmark Civil Engineering Bldg
205 N. Mathews
Urbana Illinois 61801
(217) 300-2166
Primary Research Area
Transportation Engineering - Transportation Engineering Railroad
Graduate Advisor
Christopher P. L. Barkan (PHD)
Biography
C. Tyler Dick, P.E., holds a bachelor of science degree in civil engineering from the University of Manitoba (1999) and a master of science degree in civil engineering from the railroad engineering program at the University of Illinois at Urbana-Champaign (2001).
After graduating from Illinois, he spent 11 years as a railway track design engineer with HDR Engineering in Dallas/Ft. Worth, Texas, where he specialized in route and relocation studies; rail operations simulation; and rail design. His rail design experience includes design of mainline alignments, industrial tracks, interchange tracks, highway grade separations, hump classification yards and intermodal facilities. This rail design experience encompasses projects for a variety of rail clients including Class 1, short line and industrial operations. He was recognized in 2009 as an HDR Professional Associate for technical expertise in the areas of railway alignment studies and classification yard design. He is a registered Professional Engineer in the state of Texas.
Returning to the University of Illinois in June 2012, Dick brings his extensive rail design experience to the classroom while co-teaching a course on railway project planning and design (CEE 411).
Research Statement
Dick's research interests focus on railway operations, capacity, network planning and yard and terminal design.
Research Areas