Faculty Profile
Deming Chen
Electrical and Computer Engineering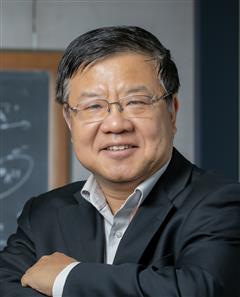 Professor
Electrical and Computer Engineering
410 Coordinated Science Lab MC 228
1308 W. Main St.
Urbana Illinois 61801
(217) 244-3922
Affiliation
Electrical and Computer Engineering
Primary Research Area
Circuits - Computer aided design of integrated circuits
Education
Ph.D. in Computer Science, University of California at Los Angeles, Los Angeles, California, 2005
B.S. Computer Science, University of Pittsburgh, Pittsburgh, Pennsylvania, 1995
For more information
Research Statement
According to the International Technology Roadmap for Semiconductors, the spectacular CMOS technology scaling will continue to evolve and dominate the semiconductor industry. This will lead to over 14 billion transistors integrated on a single chip by the year 2018. Such a scaling has already created a large design productivity gap due to inherent design complexities and deep submicron issues. Meanwhile, development cost, including both the design cost and manufacturing cost, of integrated circuits has grown significantly given the increasing size of the design team and the lengthy design cycles. Both problems, if not addressed, will be the red brick walls on the technology roadmap. Some key solutions for managing the exponential increase of the design complexity are the development of more scalable optimization engines, higher level of design abstraction, and design reuse. Some key solutions for controlling the increase in manufacturing cost are design for manufacturing and reliability, use of alternative silicon implementation platforms, and silicon reuse. In this context, the research group led by Prof. Chen will mainly pursue the following research directions: system-level and high-level synthesis, hardware/software co-design for system-on-chip, reconfigurable computing, GPU computing and optimization, and the design of novel computing platforms, including FPGAs with nanotechnology. The group recently is also pursuing several other research directions, such as computational genomics, hardware security, and computation in the smart grid.
Undergraduate Research Opportunities
Behavioral synthesis for low power (preferred background: ECE425)
Circuits process variation modeling (preferred background: STAT/MATH451)
SoC (system-on-a-chip) design (preferred background: ECE385 and ECE391)
Logic synthesis (preferred background: ECE425 and ECE462)
Research Interests
System-level and high-level synthesis
Nanotechnology-centric architecture and CAD
GPU optimization and GPU computing
Hardware/software co-design for SoC
Computational genomics
Reconfigurable computing
Hardware security
Research Areas
Algorithms and computational complexity
Computer aided design
Computer aided design of integrated circuits
Digital integrated circuits
Fault tolerance and reliability
Hardware verification and testing
Integrated circuit reliability
Logic design and VLSI
Nano-electronics and single electronics
Research Topics
Autonomous vehicular technology, UAVs
Cognitive computing
Computational science and engineering
Cyberinfrastructures
Cyberphysical systems and internet of things
Cybersecurity and privacy
Data science and analytics
Distributed computing and storage systems
Genomics
Machine learning
Machine vision
Nanomedicine and bio-nanotechnology
Point-of-care diagnostics
Robotics
Smart grid and energy delivery
Smart infrastructures
Speech, language, and audio processing
Wearable and mobile computing
Service on Campus Committees
Senator, Faculty Senate, 2014-2016
Honors
Keynote paper, Integration, the VLSI Journal, 2017
Recognition of Service Award, ACM, 2016
Best Paper Award, IEEE/ACM International Conference on Computer-Aided Design, 2015
Keynote speech, IEEE International Conference on ASIC, 2015
Donald Biggar Willett Faculty Scholar, College of Engineering, University of Illinois, 2015
Distinguished Visiting Professor, Fudan University, China, 2015-2017
Keynote speech, IEEE International Conference on Anti-counterfeiting, Security, and Identification, 2014
IBM Faculty Award, 2015
IBM Faculty Award, 2014
10-Year Retrospective Most Influential Paper Award Nomination, IEEE/ACM Asia and South Pacific Design Automation Conference, 2014
Best Paper Award, IEEE International Conference on Hardware/Software Codesign and System Synthesis, 2013
Best Paper Award Nomination, IEEE International Conference on Field-Programmable Technology, 2011
Best Paper Award, SAAHPC (Symposium on Application Accelerators in High Performance Computing), 2011
Best Paper Award, FCCM (IEEE International Symposium on Field-Programmable Custom Computing Machines), 2011
Senior Member, IEEE, 2011
ACM SIGDA Outstanding New Faculty Award, 2010
Best Paper Award, SASP (IEEE Symposium on Application Specific Processors), 2009
Best Paper Award, ASPDAC (IEEE/ACM Asia and South Pacific Design Automation Conference), 2009
CAREER Award, National Science Foundation, 2008
Arnold O. Beckman Research Award, UIUC, 2007
Achievement Award for Excellent Teamwork, Aplus Design Technologies, Inc, 2001

Teaching Honors
Invited Lecturer, Dragon Star Program, National Natural Science Foundation, China, Aug. 2011
On the List of Teachers Ranked as Excellent by Students, Spring 2008
Public Service Honors
Founding chair of IEEE CEDA chapter for Central Illinois (12/1/2016)