Faculty Profile
Deming Chen
Electrical and Computer Engineering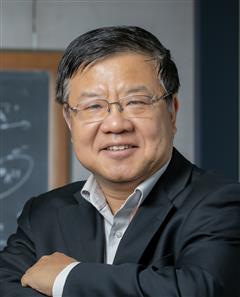 Deming Chen
Donald Biggar Willett Scholar

Professor
Electrical and Computer Engineering
410 Coordinated Science Lab MC 228
1308 W. Main St.
Urbana Illinois 61801
(217) 244-3922
Administrative Titles
Donald Biggar Willett Scholar
Affiliation
Electrical and Computer Engineering
Primary Research Area
Circuits - Computer aided design of integrated circuits
Education
Ph.D. in Computer Science, University of California at Los Angeles, Los Angeles, California, 2005
B.S. Computer Science, University of Pittsburgh, Pittsburgh, Pennsylvania, 1995
Biography
Dr. Deming Chen obtained his BS in computer science from University of Pittsburgh, Pennsylvania in 1995, and his MS and PhD in computer science from University of California at Los Angeles in 2001 and 2005 respectively. He worked as a software engineer between 1995-1999 and 2001-2002. He joined the ECE department of University of Illinois at Urbana-Champaign in 2005 and has been a full professor in the same department since 2015. He is a research professor in the Coordinated Science Laboratory and an affiliate professor in the CS department. His current research interests include system-level and high-level synthesis, computational genomics, GPU and reconfigurable computing, and hardware security. He has given close to 100 invited talks sharing these research results worldwide.
Dr. Chen is a technical committee member for a series of top conferences and symposia on EDA, FPGA, low-power design, and VLSI systems design. He also served as TPC Subcommittee or Track Chair, Session Chair, Panelist, Panel Organizer, or Moderator for these conferences. Specifically, he is the General Chair for SLIP'12 and FPGA'16, the CANDE Workshop Chair in 2011, the Program Chair for PROFIT'12 and FPGA'15, the Program Co-chair for the First International Workshop on High-performance Reconfigurable Computing (H2RC), and the Program Co-chair and General Chair for GLSVLSI in 2017 and 2018, respectively. He is or has been an associated editor for IEEE TCAD, ACM TODAES, IEEE TVLSI, ACM TRETS, IEEE TCAS-I and TCAS-II, JCSC, and JOLPE. He obtained the Achievement Award for Excellent Teamwork from Aplus Design Technologies in 2001, the Arnold O. Beckman Research Award from UIUC in 2007, the NSF CAREER Award in 2008, and six Best Paper Awards for ASPDAC'09, SASP'09, FCCM'11, SAAHPC'11, CODES+ISSS'13, and ICCAD'15. He is included in the List of Teachers Ranked as Excellent in 2008 and 2017. He received the ACM SIGDA Outstanding New Faculty Award in 2010, and IBM Faculty Award in 2014 and 2015. In 2017, he led a team to win the first place of DAC International Hardware Design Contest in the IoT domain. He is the Donald Biggar Willett Faculty Scholar of College of Engineering.
Dr. Chen was involved in several startup companies. He implemented his published algorithm on CPLD technology mapping when he was a software engineer in Aplus Design Technologies, Inc. in 2001, and the software was exclusively licensed by Altera and distributed to many customers of Altera worldwide. He is one of the inventors of the xPilot High Level Synthesis package developed at UCLA, which was licensed to AutoESL Design Technologies, Inc. Aplus was acquired by Magma in 2003, and AutoESL was acquired by Xilinx in 2011. He has also served as a consultant for several leading semiconductor companies.
In 2016, he co-founded a startup, Inspirit IoT, Inc., for design and synthesis for machine learning targeting the IoT industry. He is currently the President and Chairman of the Board of the company. Inspirit IoT recently received an NSF SBIR (Small Business Innovation Research) Award from the US government.
For more information
Professional Highlights
RIP (Open Source): This open source project contains three inter-related software packages (fast software modeling, fast hardware modeling and design space exploration, and hardware/software co-design), for the ultimate task of automated hardware/software partitioning targeting either sophisticated SoC designs or computing on heterogeneous systems.Download: https://github.com/UIUC-ChenLab/rip
FCUDA (Open Source): A system-synthesis compiler to map GPU CUDA code to FPGA. Enable a common frontend language for heterogeneous compute platforms where FPGA and GPU co-exist. Low-power FPGA computing with comparable performance as GPU. Download: http://dchen.ece.illinois.edu/tools.html
TMDFET SPICE Model (Open Source): SPICE transistor models of flexible Transition Metal Dichalcogenide Field-Effect Transistors, TMDFET. Download: http://dchen.ece.illinois.edu/tools.html
H.264 HLS Benchmark (Open Source): Fully synthesizable H.264 Video Decoder code, which can be synthesized into RTL with high-level synthesis for FPGA implementation and achieve real-time decoding. Download: http://dchen.ece.illinois.edu/tools.html
TIGER: Tiled Iterative Genome Assembler. Significant improvement over state-of-the-art de novo genome assemblers. Available since 2013. Download: http://impact.crhc.illinois.edu/Tiger/tiger.aspx
BLESS (Open Source): Bloom-filter-based Error Correction Solution for High throughput Sequencing Reads. Currently, the best DNA error correction tool in terms of quality and small memory usage. Available since January 2014. (More than 2000 downloads so far.) Download: http://dchen.ece.illinois.edu/tools.html
GNRFET HSPICE Model (Open Source): First parameterized HSPICE transistor compact models of two types of Graphene Nano-Ribbon Field-Effect Transistors, MOS-GNRFET and SB-GNRFET. Available at nanoHUB.org since July 2013. (More than 1000 downloads so far.) Download: http://dchen.ece.illinois.edu/tools.html
Research Statement
According to the International Technology Roadmap for Semiconductors, the spectacular CMOS technology scaling will continue to evolve and dominate the semiconductor industry. Such a scaling has already created a large design productivity gap due to inherent design complexities and deep submicron issues. Meanwhile, development cost, including both the design cost and manufacturing cost, of integrated circuits has grown significantly given the increasing size of the design team and the lengthy design cycles. Both problems, if not addressed, will be the red brick walls on the technology roadmap. In this context, the research group led by Prof. Chen will mainly pursue the following research directions: system-level and high-level synthesis, hardware/software co-design for system-on-chip, reconfigurable computing, GPU computing and optimization, and the design of novel computing platforms. The group recently is also pursuing several other research directions, such as computational genomics, security and computation in the smart grid, and machine learning and cognitive computing.
Undergraduate Research Opportunities
High-level and system-level synthesis;
SoC (system-on-a-chip) design;
Machine learning and hardware acceleration;
Security in IoT and Smart Grid;
Computational Genomics;
FPGA and GPU Computing
Research Interests
Nanotechnology-centric architecture and CAD
GPU optimization and GPU computing
Hardware/software co-design for SoC
Computational genomics
Machine learning and hardware acceleration
Reconfigurable computing and FPGAs
Hardware security for smart IoT applications
System-level and high-level synthesis
Research Areas
Algorithms and computational complexity
Computer aided design
Computer aided design of integrated circuits
Digital integrated circuits
Fault tolerance and reliability
Hardware verification and testing
Integrated circuit reliability
Logic design and VLSI
Nano-electronics and single electronics
Research Topics
Autonomous vehicular technology, UAVs
Cognitive computing
Computational science and engineering
Cyberinfrastructures
Cyberphysical systems and internet of things
Cybersecurity and privacy
Data science and analytics
Distributed computing and storage systems
Genomics
Machine learning
Machine vision
Nanomedicine and bio-nanotechnology
Point-of-care diagnostics
Robotics
Smart grid and energy delivery
Smart infrastructures
Speech, language, and audio processing
Wearable and mobile computing
Service on College Committees
Invited reviewer for proposals for CoEs SRI Program, 2018
Representative of CSL on the College Executive Committee, 2016-2019
Judge for Illinois Innovation Prize, TEC, 2016, 2018
Alternate representative of CSL on the College Executive Committee, 2015-2016
Panelist, campus review panel for GYSS travel grant competition, 2015
CSL Director Search Committee, 2014
Service on Campus Committees
Elected into the Senate of University of Illinois, 2018-2019
Senator, Faculty Senate, 2014-2016
Honors
Invited Distinguished Speaker, Masters & Robots Conference, 2017
Invited Speaker, ICC Distinguished Lecture Series, Michigan Tech, 2017
First Place Winner, International Hardware Design Contest, Design Automation Conference, 2017
NSF SBIR (Small Business Innovation Research) Award, together with Inspirit IoT, Inc. 2017
Keynote paper, Integration, the VLSI Journal, 2017
Recognition of Service Award, ACM, 2016
Best Paper Award, IEEE/ACM International Conference on Computer-Aided Design, 2015
Keynote speech, IEEE International Conference on ASIC, 2015
Donald Biggar Willett Faculty Scholar, College of Engineering, University of Illinois, 2015
Distinguished Visiting Professor, Fudan University, China, 2015-2017
Keynote speech, IEEE International Conference on Anti-counterfeiting, Security, and Identification, 2014
IBM Faculty Award, 2015
IBM Faculty Award, 2014
10-Year Retrospective Most Influential Paper Award Nomination, IEEE/ACM Asia and South Pacific Design Automation Conference, 2014
Best Paper Award, IEEE International Conference on Hardware/Software Codesign and System Synthesis, 2013
Best Paper Award Nomination, IEEE International Conference on Field-Programmable Technology, 2011
Best Paper Award, SAAHPC (Symposium on Application Accelerators in High Performance Computing), 2011
Best Paper Award, FCCM (IEEE International Symposium on Field-Programmable Custom Computing Machines), 2011
Senior Member, IEEE, 2011
ACM SIGDA Outstanding New Faculty Award, 2010
Best Paper Award, SASP (IEEE Symposium on Application Specific Processors), 2009
Best Paper Award, ASPDAC (IEEE/ACM Asia and South Pacific Design Automation Conference), 2009
CAREER Award, National Science Foundation, 2008
Arnold O. Beckman Research Award, UIUC, 2007
Achievement Award for Excellent Teamwork, Aplus Design Technologies, Inc, 2001

Teaching Honors
Invited Lecturer, Dragon Star Program, National Natural Science Foundation, China, Aug. 2011
On the List of Teachers Ranked as Excellent by Students, Spring 2008, Fall 2017
Public Service Honors
Founding chair of IEEE CEDA chapter for Central Illinois (12/1/2016)