Faculty Profile
James Michael Leake
Industrial and Enterprise Systems Engineering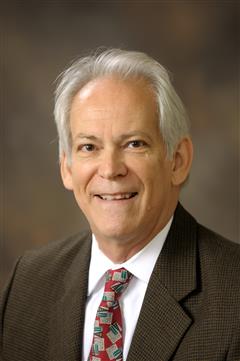 Director of Engineering Graphics
309 Transportation Building
104 S. Mathews
Urbana Illinois 61801
(217) 244-0401
Senior Lecturer
309 Transportation Building
104 S. Mathews
Urbana Illinois 61801
(217) 244-0401
Education
MS Mechanical Engineering University of Washington 1993
BS Ocean Engineering Florida Atlantic University 1980
BA Art History Indiana University 1974
Biography
James Leake joined the Department in August 1999. His educational background includes an MS in Mechanical Engineering (1993) from the University of Washington, a BS in Ocean Engineering (1980) from Florida Atlantic University, and a BA in Art History (1974) from Indiana University. His current research interests include engineering education, digital prototyping, 3D printing, digital shape sampling and processing, and design collaboration.
Leake's book publications include Engineering Design Graphics: Sketching, Modeling, and Visualization, published by John Wiley & Sons. The second edition of this book was published in 2013. Other book publications include Autodesk Inventor, published by McGraw-Hill in 2004 and a CD series, Learning to Use AutoCAD 2D & 3D, published by Thompson Delmar Learning in 2003.
Prior to coming to Illinois, Leake taught CAD and math courses at UAE University in the United Arab Emirates. He is a returned Peace Corps Volunteer, where he served in Tunisia from 1983 till 1986.
Leake worked as a naval architect in the Pacific Northwest for 10 years. He is a registered professional engineer in naval architecture in the state of Washington.
For more information
Professional Registrations
PE in Naval Architecture/Marine Engineering, State of Washington, 12/89
Research Interests
Engineering design
Spatial Visualization
Building Information Modeling
Reverse Engineering
Design collaboration
Additive manufacturing
Reality Capture/Digital Shape Sampling and Processing (DSSP)
Digital Prototyping
Engineering Education
Books Authored or Co-Authored (Original Editions)
James M. Leake, Engineering Design Graphics: Sketching, Modeling, and Visualization, Second edition, John Wiley & Sons, 2013
James M. Leake, Engineering Design Graphics: Sketching, Modeling, and Visualization, John Wiley & Sons, 2008
James M. Leake, Autodesk Inventor, McGraw-Hill, August 2003
Other Scholarly Activities
Product Design Laboratory, founder and director, 2007 present, more than 1000 students have used PDL facilities (computers, 3D printers, 3D scanners, etc.)
Professional Societies
American Society of Engineering Education, Member, 1997
Society of Naval Architects and Marine Engineers, Associate Member, 1990
Teaching Honors
Engineering Council Award for Excellence in Advising, 2010, College of Engineering
Engineering Council Award for Excellence in Advising, 2009, College of Engineering
Advisors List, 2004, College of Engineering
Collins Scholar, April 2000 (recognition graduation from Teaching College, Academy for Excellence in Engineering Education)
Public Service Honors
Returned Peace Corps Volunteer, Tunisia, 7/83 2/86