Faculty Profile
Leon Liebenberg
Mechanical Science and Engineering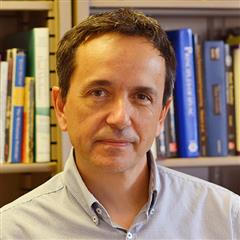 Senior Lecturer
227 Mechanical Engineering Bldg
1206 W. Green
Urbana Illinois 61801
(217) 300-5496
Education
Ph. D. (Mechanical Engineering), University of Johannesburg, 2003
M. Sc. (Mechanical Engineering), Imperial College London, 1993
Diploma of Imperial College (DIC): Advanced Mechanical Engineering, University of London, 1992
M. Eng. (Mechanical), University of Johannesburg, 1991
B. Eng. (Mechanical), University of Johannesburg, 1989
Biography
For the past 25 years, Leon Liebenberg has been engaged in engineering teaching, research, and community engagement. Leon is a senior lecturer in the Department of Mechanical Science and Engineering at the UIUC. Before coming to the UIUC in 2017, he was a higher education consultant in Lausanne, Switzerland for three years. And prior to that he was a professor of mechanical engineering at the University of Pretoria and the North-West University, South Africa.
Leon is passionate about multidisciplinary research, particularly in the fields of engineering education, energy engineering, and biomedical engineering. His university research has focused on development of industrial energy-efficient technologies and cancer therapies using energy restriction methods.
Leon first love is however for teaching. He co-developed and taught a unique freshman course on Innovation, where students work in so-called whole-mind thinking teams when addressing technological problems.
In 1997, Leon co-founded the TechnoLab technology awareness facility for junior engineering students and for school children, where learners work in small teams to solve problems using Lego Dacta and employing roleplay. The TechnoLab model has been adopted by several South African schools since its inception. Leon also founded the Space and Aviation Challenge for school learners in South Africa, which aimed at demystifying the aeronautical engineering profession by employing several simulation-based activities. The Challenge was annually presented for several years in collaboration with Nasa (Houston) who offered the first prize for a learner to attend Space Camp USA.
Leon teaches a variety of subjects, including: Innovation; Statics; Dynamics; Thermodynamics; Fluid Dynamics; Automatic Control Systems; Design for Manufacturability; Mechanical Design; Heat Transfer; Aerodynamics; Aeronautics; and Advanced Heat and Mass Transfer.
Leon holds masters degrees from Imperial College London and from the University of Johannesburg, and a doctoral degree from the University of Johannesburg. Leon and his wife enjoy meeting people, engaging with local communities, reading, photographing, hiking, cycling, and spending time with their cats.
CORE COMPETENCIES:
Passionate instructor Team Leadership Design-thinking
Multidisciplinary Research Sustainable Development
Technical Writing Mentoring Student Engagement
Negotiations Partnership Development Gamification
Brand Ambassadorship Fundraising Marketing Strategies
Technical Presentations Public Relations Media Relations
Academic Positions
Senior Lecturer, University of Illinois at Urbana-Champaign, Mechanical Science and Engineering, Jan. 2017 - present
Education Consultant, Self-employed (Lausanne, Switzerland), Engineering Education, Oct. 2014 - Dec. 2016
Professor, North-West University (Pretoria-campus, South Africa), Mechanical Engineering, Apr. 2009 - Sept. 2014
Professor, University of Pretoria (South Africa), Mechanical & Aeronautical Engineering, Apr. 2003 - Mar. 2009
Senior Lecturer, University of Johannesburg (South Africa), Mechanical Engineering, Jan. 1993 - Mar. 2003
For more information
Other Professional Employment
Editorial Consultant: "Mechanical Technology" magazine, Crown Publications, Johannesburg (South Africa), 1995 - 2010
Project Engineer, SA Plant and Engineering Co., Johannesburg (South Africa), Dec. 1990 - Jun. 1992
Project Leader, Kruger Du Rand Inc., Johannesburg (South Africa), Jan. 1989 - Nov. 1990
Executive Officer, SAS Fleur (Support vessel), South African Navy, Simon's Town (Cape Town, South Africa), Jan. 1983 - Dec. 1984
Professional Highlights
In 2016 I was a Top 30 Finalist (out of 2300 entries) for the 2016 Rolex Awards for Enterprise for development of a social network game (with real-world problem-solving component) addressing sustainable development, cultural values, and lifestyle effects. The same gamification techniques and game mechanics can be used to drive student or customer engagement and change behaviour, attitudes and beliefs. I am currently investigating the incorporation of several gamification techniques to help enhance emotional learning in the mechanical engineering curriculum at UIUC.
At the North-West University, I Increased the number of research outputs emanating from the Centre for Research and Continued Engineering Development (CRCED-Pretoria) by 450% through intensive mentoring of postgraduate students, by recruiting new (part-time) students from various organizations, and by co-authoring research publications.
At the University of Pretoria, I co-developed and taught a unique first-year course in Innovation, lectured every year to 800 freshmen engineers. The 10-month course helped students discover the power of wholebrain thinking in problem-solving, as well as the usefulness of roleplaying certain metaphorical mind-sets (personas) when tackling a challenge in teams.
At the University of Pretoria, I founded the research publication, Innovate, the Space and Aviation Photographic Competition for school students (with Kodak SA), and the annual national Space and Aviation Challenge for school students (in collaboration with NASAs International Space School, Houston), initiatives all credited with attracting top performing students to the university and increasing collaboration between different departments within the university.
I founded and led the University of Johannesburgs TechnoLab facility, an innovative way to bring technology awareness to school students and teachers. The program has reached in excess of 60,000 students and teachers since its inception in 1997, using a unique team-based approach to solve technological problems using mainly Lego Dacta as a didactic medium.
During compulsory national military service in the South African Navy, I was Executive Officer of a naval support vessel, SAS Fleur, with a complement of 30 sailors and five officers.