News
Smells like french fries...
2/16/2011 1:13:00 PM
Two years ago, Keith Kocek stood above a go-kart machine, and smelled something peculiar. As a freshman in electrical and computer engineering, Kocek was observing a test vehicle for the Illinois BioDiesel Initiative's work.
"I smelled french fries," Kocek said with a smile. Now, as a junior, Kocek is one of the project leaders of IBI, who is responsible for turning the used vegetable oil from campus dorms into usable biodiesel for campus vehicles.


Matt Giannis, one of the IBI project leaders, examines one of the by-products of the filtering process.
The IBI is the sole recipient of vegetable oil from the Ikenberry Dorm Cafeteria, and receives around 100 gallons of oil a week. Every week, members of the IBI pick up the left-over vegetable oil that was used to cook french fries, chicken nuggets, and everything else Six-Pack residents ate for lunch. Using a truck provided by the University, IBI members them transport the oil to the IBI's facilities at the Illinois Sustainable Technology Center at Research Park, where the transformation process begins.
Going through several stages of rinsing and filtering to clean the oil, methanol and other catalysts are added to create a usable biodiesel fuel.
And the result is a process that emits just as much fuel as oil it takes in. Even the methanol that is added is later extracted as a reusable glycerine that is used for products such as soap and anti-freeze.
"We try and find a way to make sure use of all of the products that go into it," said Matt Giannis, a junior in
mechanical science and engineering
and one of IBI's project leaders.
After the process comes to an end, the biodiesel fuel is cooled and stored away until it can be integrated into the campus diesel supply, where it will be later consumed by various campus vehicles.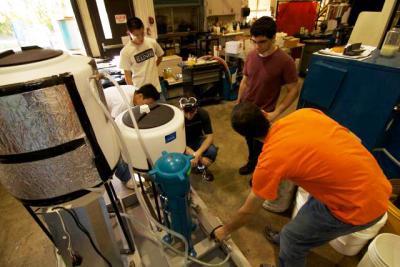 "It may seem pretty easy to pick up oil, pump into reactor, and drop off the biodiesel at the Garage and Carpool (facility), but once you get into the project, the amount of work that goes into a singe step of the process is surprising," said Marina Poluektova, a senior in
chemical and biomolecular engineering
. Poluektova, who is the production coordinator at IBI, is responsible for all of the logistics behind the process, including communicating with the campus dorms and arranging and operating the transportation vehicles.
"IBI gives students some hands on experience in engineering and provides an understanding of just how much goes into a process such as producing biodiesel," she added. Poluektova will continue her experience from IBI next Fall, when she will begin working at UOP Honeywell in their Chemical Engineering Development Program. Poluektova said that UOP Honeywell, an oil processing company, was impressed by her hands-on experience at IBI.
"With every batch of biodiesel we react, I feel like we've accomplished something very tangible, and in the end, very useful to the university community," Poluektova said.
And though most of the students involved with IBI are students in the College of Engineering, Giannis said the projects calls for a variety of academic disciplines and interests.
"I think what differentiates this group is the opportunities that the members of the group have," Giannis said. "They are able to put all the skills that they have acquired in class into practice. Whether it be business majors and our financial planning or engineers with the constructing of our reactor system, they are all able to put all the skills that they have acquired in class into practice. The club allows for the development of each individual's unique talents."
The IBI is one of several similar campus initiatives at other universities - members of Loyola's biodiesel team came down recently to share ideas with the IBI - but what makes the IBI unique is that it is completely student run and student driven.
"Our project is unique in that if our students walk away, this project fails," Kocek said.
The IBI consists of 30 students, and without those students, there would be do biodiesel effort.
"We've very student driven," Kocek said. "We have partners and advisers that assist the club, but in the end, most of the research, and developing and implementing of projects is on the students."
And the development of the biodiesel project is an on-going process. The project, which first began as a project of
Engineers Without Borders
, another registered student organization on campus, in 2006 before branching off in its own independent organization.
IBI's project leaders said that the team continuously faces problems to solve - improving soap development, finding solutions to logistical problems, making the process more efficient, etc.
The biggest obstacle that the IBI is tackling right now regards storage and transportation. Although the IBI has the capacity to take in and generate 300 gallons of vegetable oil/biodiesel a week, the team is limited to producing 100 gallons because of storage and transportation limitations, especially in the winter. Because the biofuel will lose much of its liquid component when it reaches a certain cooling point, storage is especially tricky in the winter.
The team hopes to get to a point where it will take in and recycle all of the used vegetable oil from all the campus cafeterias.
"Things are being put in place this semester to make it happen," Kocek said. "It may not happen today, but it'll happen soon."
__________________

Contact:
Keith Kocek
, Illinois BioDiesel Initiative.
Writer:
Jay Lee,
Engineering Communications Office.
If you have any questions about the College of Engineering, or other story ideas, contact
Rick Kubetz,
editor, Engineering Communications Office, University of Illinois at Urbana-Champaign, 217/244-7716.