News
Dream, Design and Discover at Engineering Open House, March 9-10
2/3/2012 4:38:00 PM
"Dream, Design, Discover!" is the theme for 92nd annual Engineering Open House (EOH). In addition to more than 250 exhibits ranging from concrete crushing to Newtonian fluid demonstrations, this year's EOH offers a few special attractions including, "Q – James Bond's Engineer – Celebrating 50 Years of James Bond films," a talk by Danny Forster, host of the Discovery Channel's Build it Bigger, and a monster Tesla Coils Concert lighting up the Grainger Quad!
All events and exhibits are free and open to the public. The annual showcase of student projects and engineering marvels runs from 9:00 a.m. to 4:00 p.m. on Friday, March 9, and from 9:00 a.m. to 3:00 p.m. on Saturday, March 10, on the Engineering Campus.

This two-day event, attracting approximately 20,000 visitors each year, is organized and run by students from the Engineering Council at Illinois. Both interactive and informative, the comprehensive list of exhibits will be a fun learning experience for the whole family. A free EOH Mobile phone app, created by Lextech Global Services especially for EOH, includes exhibit details, building information, maps, and more, can be downloaded from the EOH website.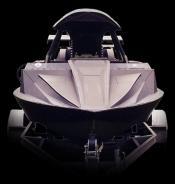 As one of the few Q boats that survived the movie's production, this one performed the barrel roll stunt seen on the screen.
This year, fans of the James Bond franchise are celebrating the 50th anniversary of the release of the first James Bond film, Dr. No. In a special EOH exhibit, "Q – James Bond's Engineer – Celebrating 50 Years of James Bond films," the
Ian Fleming Foundation
will be displaying two vehicles used in the James Bond films--the acrobatic "Q Boat" and a ferociously modified Jaguar XKR.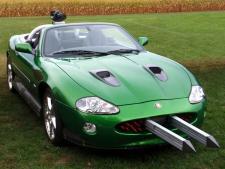 This custom-built Jaguar XKR was used in the car battle scene on ice vs. 007's Aston Martin DBS. The XKR was retro-fitted with several automatic panels for use by the special effects department to simulate artillery fire. An automatic Gatling gun is mounted on the back end.
Among the EOH highlights will be the
25th AMD Jerry Sanders Creative Design Competition
. This competition pits teams of college students pitting their hand-built robots against each other in a giant game of collection played with Nerf balls, ping pong balls and Bocce balls. Action runs all day Friday and Saturday and will be followed late Saturday with some demolition rounds where the robots fight to their death.
On Friday,
30 high school teams
will compete on Friday to see which team can build the most entertaining and wackiest Rube Goldberg machine that inflates a balloon then pops it. The
Middle School Design Competition
will also be held on the same day, for 6th-8th graders, to test their skills at solving engineering problems.

Discovery Channel personality Danny Forster will offer a peek into the world of
Build it Bigger
—where he travels the world with a camera crew in search of incredible feats of architecture and engineering. Doors open at 6:30 p.m. for the free presentation at the Foellinger Auditorium. Because seating is limited, tickets are required for admission. The tickets will be given out every hour on the hour from 9:00 a.m.-4:00 p.m. on Friday at the EOH Visitors Welcome Center outside of Grainger Library.
Following Forster's presentation will be a Tesla Coil Concert at 9:00 p.m. on the North Patio of Engineering Hall. This is a truly unique experience as man-made lightning generated by two giant coils recreates well-known musical tunes as it lights up the night sky.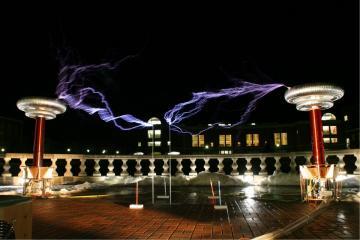 For those interested in engineering education programs at Illinois, the College of Engineering will hold several Dean's Sessions throughout the day where prospective students can talk to a dean and get answers to any queries they might have Engineering at Illinois.
All Engineering Alumni are encouraged to visit the EOH Alumni Welcome Center hosted by Engineering Student Alumni Ambassadors. Relax with students and alumni in the Grainger Rooms on the third floor of Engineering Hall, enjoy refreshments and pick up a free gift. Families are welcome!
Parking is available and is free to the public. Directions for parking can be found on the
EOH website
. From the parking area, visitors can board a free shuttle that stops at the Visitor Center and the design contest locations, along with stops at
ExplorACES
and the
College of Applied Health Sciences
events on campus.
Can't make it to EOH this year? Then check out
EOH Live!
where all EOH activities including exclusive interviews with exhibitors and demos of their exhibits will be broadcast live.
_________________________
For more information on 92nd annual Engineering Open House, visit
http://eoh.ec.illinois.edu
Contact:
EOH Committee,
eoh@ec.uiuc.edu
If you have any questions about the College of Engineering, or other story ideas, contact
Rick Kubetz,
writer/editor, Engineering Communications Office, University of Illinois at Urbana-Champaign, 217/244-7716.