News
News from Engineering at Illinois April 2012
4/2/2012 10:39:00 AM
Excerpts from Illinois in the News, a daily service provided by the University of Illinois News Bureau. This collection of April excerpts focuses on engineering topics and faculty contacted for their expertise by print and broadcast reporters around the world.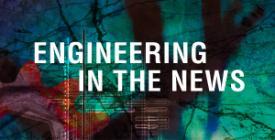 BODY WEIGHT AND FUEL CONSUMPTION
CNBC (April 30) -- Some costs of obesity reflect basic physics. It requires twice as much energy to move 250 pounds than 125 pounds. As a result, a vehicle burns more gasoline carrying heavier passengers than lighter ones. "Growing obesity rates increase fuel consumption," says U. of I. computer science professor Sheldon Jacobson. How much? An additional 938 million gallons of gasoline each year as a result of overweight and obesity in the United States, or 0.8 percent, he calculated. That's $4 billion extra. Also: Daily Mail (from Reuters; London, April 30), Reuters (April 30), Yahoo! News (from Reuters, April 30).

PREPARING STUDENT ENTREPRENEURS
Chicago Tribune (April 29) -- The U. of I. is among the premier schools preparing young people in engineering and computer science for startup companies. Among those quoted from the U. of I. are engineering dean Ilesanmi Adesida and vice president for research Lawrence Schook.

Related article:
Chicago Tribune (April 29) -- An accompanying story headlined "The U. of I. Breeding Ground" lists a number of prominent U. of I. alumni who have succeeded as entrepreneurs.

JOHN BARDEEN
NPR (April 27) -- NPR science editor Ira Flatow interviewed author Jon Gertner, who talks about the innovative work done at Bell Labs and by two-time Nobel Prize-winning scientist John Bardeen. Bardeen was a longtime member of the U. of I. faculty.

OPTICS
Photonics.com (Pittsfield, Mass., April 27) -- Researchers at Illinois have developed a technique called computational adaptive optics. "Computational techniques allow you to go beyond what the optical system can do alone, to ultimately get the best-quality images and three-dimensional datasets," says Steven Adie, a postdoctoral researcher at the U. of I. Beckman Institute for Advanced Science and Technology. Also: Daily Rx (Austin, Texas, April 28).

ONLINE TOOL
Chicago Tribune (April 27) -- PlaceofMine . com, an apartment search engine, is an aggregator that reaches into thousands of websites and combs through millions of rental properties to find houses and apartments that match a renter's pre-selected criteria. The site was developed by Cazoodle, a start-up company that uses technology developed at Illinois.

YOUTUBE
The Daily Northwestern (April 26) -- Boasting over four billion views a day, YouTube has risen from its modest beginnings as a startup company above a pizzeria. Interestingly enough, two of the founders studied computer science at the University of Illinois at Urbana-Champaign.
MRI
The Atlantic (April 26) – In an article titled "6 Cool Things People Have Done Inside MRI Scanners," the author cites research done at the U. of I. Beckman Institute on subjects playing video games while the subjects were in various positions.

ELECTRONIC TATOO
St. Louis Post-Dispatch (April 27) -- In an article on traditional tattoos, the reporter also cites researchers at the U. of I. to develop an electronic tattoo that can be attached to a patient's skin.

BARKAN RECEIVES RAIL AWARD
Progressive Railroading (April 26) -- The the National Association of Railroad Passengers presented its Academic Award to Professor Christopher Barkan, director of the Railroad Engineering Program at Illinois. He was recognized for a career "dedicated to promoting the understanding of railroad engineering and advancing rail technology." Also: U.S. Department of Transportation (Secretary LaHood's blog, April 26).

SOLAR ENERGY STARTUP
Technology Review (Cambridge, Mass., April 25) -- A start-up company based on technology developed by U. of I. materials science professor John Rogers is on the cutting edge of ultra-efficient solar energy production.

NAVISTAR PARTNERS WITH T&M PROGRAM
Truckinginfo (April 23) -- Navistar is the newest corporate affiliate of The Hoeft Technology & Management program at the University of Illinois, the university's undergraduate minor degree bridging the College of Business with the College of Engineering.

CONTINUOUS CASTING STEEL
Cleveland.com (April 23) -- Commenting on a new continuous casting steel plant in Ohio, Brian Thomas, a mechanical engineering professor at the University of Illinois and director of the Continuous Casting Consortium trade group, said continuous casters help companies fight the basic nature of steel. "High-strength steel tends to be brittle," Thomas said. Because it doesn't bend as easily, specialty alloys can shatter if not produced properly. Creating high-strength steel that doesn't shatter is tricky.
3D TISSUE IMAGING REVOLUTION
R&D Magazine (April 24) -- Real-time, 3D microscopic tissue imaging could be a revolution for medical fields such as cancer diagnosis, minimally invasive surgery and ophthalmology. A new computational technique developed by researchers, led by Stephen Boppart and Scott Carney, both professors of electrical and computer engineering, could provide faster, less-expensive and higher-resolution tissue imaging to a broader population of users. Also: News Medical.Net (Sydney, April 24), e! Science News (Quebec City, April 23), Science Codex (San Jose, Calif., April 23), ScienceBlog (April 25).

ANDREESSEN COVERED
WIRED (April 24; May issue) -- Cover article features Q&A with Illinois alumnus and Engineering at Illinois Hall of Fame member Marc Andreessen. The article chronicles his time at the University of Illinois as a co-developer of Mozaic, the first graphical browser for the World Wide Web. Today, he is a recognized techology prophet who has continued to innovate new products and provide venture capital for many more.

Related article: Reuters (April 26) -- A columnist assesses the achievements and business philosophy of U. of I. alumnus Marc Andreessen, who created Mosaic, a Web browser.
DRIVING RESTRICTIONS
KMOX-AM (1120) (CBS; St. Louis, April 23) -- In Illinois, texting and driving is already banned, but a number of proposals have been introduced by lawmakers to take it further. But the effectiveness of various bans depends on where and how people are driving, according to U. of I. computer scientist Sheldon Jacobson. "We found the higher the licensed driver density, the more of an impact the law seemed to have in reducing the different types of accidents," he says. Also: WLDS (Jacsonville, Ill., April 23).

CONTROLLING HEAT FLOW
PhysOrg.com (Isle of Man, April 22) -- Through a combination of atomic-scale materials design and ultrafast measurements, researchers at Illinois have revealed new insights about how heat flows across an interface between two materials. Materials science professors David Cahill and Paul Braun demonstrated that a single layer of atoms can disrupt or enhance heat flow across an interface. Improved control of heat exchange is a key element to enhancing the performance of current technologies such as integrated circuits as well as emerging technologies such as thermoelectric devices. Also: Nanotech Now (April 23), R&D Magazine (April 23), NPR (April 23), AzoNano (Sydney, April 24), Azom.com (Sydney, April 24), domain-B.com (Mumbai, India, April 25).

ALUMNI
Forbes (April 22) -- Marc Andreessen, Netscape co-founder and U. of I. alumnus, is known for his work creating the first graphical Internet browser, but that's just one of five world-changing ideas he's brought forward over his career.

STEM SUPPORT
Huffington Post (April 16) -- President Obama and leaders of industry have challenged colleges and universities to graduate 10,000 more engineers a year and 100,000 new teachers with majors in STEM (science, technology, engineering and math). The goal is daunting. Studies have shown that nearly 40% of students who declare engineering and science majors eventually switch majors or fail to get a degree altogether. David E. Goldberg, an emeritus engineering professor at the University of Illinois, calls this "the math-science death march." Goldberg was the founding director of the iFoundry curriculum incubator program whose goal is to reengineering engineering education.

HIGH-TECH HEALTH TOOLS
Everyday Health.com (April) -- Among the high-tech health tools mentioned, a bandage with a "microvascular stamp," a smattering of living cells that deliver growth factors to damaged tissues. By controlling the spacing of new blood vessels, the discovery by University of Illinois engineers, could eventually help patients with severe injuries rebuild entire vascular networks.

FOOD VS. FUEL
PhysOrg.com (Isle of Man, April 19) -- Numerous studies of land use, food prices, environmental impact and more have fed the so-called "food versus fuel" debate. However, according to new models created by U. of I. researchers Yanfeng Ouyang, a professor of civil and environmental engineering, and Jong-Shi Pang, a professor of industrial and enterprise systems engineering, most studies so far have overlooked a key factor: selfish and possibly competing interests of the biofuel industry and individual farmers, who independently seek the most profit from their crops. Also: bits of science (April 19), Earth Times (April 20), R&D Magazine (April 20), Cutting Edge News (April 22).

SUPERCONDUCTIVITY
Physics World (Bristol, England, April 19) -- A fundamental prediction of superconductivity theory has been demonstrated in the lab for the first time. Alexey Bezryadin, a U. of I. physics professor, believes that the work marks a significant achievement, both in terms of its progress in fundamental physics and its potential for application.

FACULTY HONORS
Chicago Tribune (from The Associated Press, April 18) -- U. of I. professors Jennifer Lewis (materials science) and Edward Diener (psychology) have been named to the American Academy of Arts and Sciences. Also: Belleville News-Democrat (from The Associated Press; Illinois, April 18), The Republic (from the AP; April 18).

SILICON NANOPARTICLES & SOLAR ENERGY
International Innovation (April) -- Physics professor Munir Nayfeh discusses his team's latest research project and explains how it utilises eclipse observations of heavy ions, neutrals and dust grains to address existing knowledge gaps and unravel some of the unsolved mysteries about the Sun's corona and solar winds.

SUPERCOMPUTING
Pittsburgh Post-Gazette (April 15) -- Cray Inc. has begun installation of a $188 million supercomputer at the National Center for Supercomputing Applications at the U. of I.

3-D PRINTING
Chemical and Engineering News (April 16) -- Rather than paying experts to manufacture intricate glassware and specialized reactors, chemists of the future may be able to design and fabricate their own inexpensive reaction vessels with the push of a few buttons. The approach enables "an incredibly broad parameter space—including reactor design, materials, and sequence—that could be explored," said U of I materials scientist Jennifer A. Lewis, who has used 3-D printers to pattern conductive inks onto substrates. She adds that she's gratified to see 3-D printing "employed in such a radically new way."
GUGGENHEIM
Green Bay Press-Gazette (from USA Today; Wisconsin, April 13) -- Huimin Zhao, the Centennial Chair Professor of Chemical and Biomolecular Engineering at Illinois, has received a fellowship from the John Simon Guggenheim Memorial Foundation to continue his work studying human diseases. Zhao works to engineer proteins used in drug discovery and gene therapy as well as industrial biotechnology and bioenergy. Also: NECH (April 13).
THE LOST PARTICLE
ScienceNews (Washington, D.C., April 12) -- The hunt for an elusive particle that does not have a distinct antiparticle twin might be over. Dutch physicists report making a new device that appears to create the mysterious entity, called the Majorana fermion. Unlike typical quantum particles, whose information tends to be easily destroyed, Majorana fermions might make more durable storage units. Destroying Majorana fermions – and any data they could potentially store – also means coordinating an attack of its two separated ends at the exact same time. So data are less likely to be wiped out by accidentally. "I'm not sure if this thing will ever be scaled up to something that could be scaled up to your desktop," says Taylor Hughes, a theoretical physicist at Illinois. "But this is the first step in showing that type of architecture."
TECHIE STEREOTYPES FADING
USA Today (April 11) -- Thanks to the legacy of industry giants such as Apple founder Steve Jobs and the increasing dependence of more Americans on the skills of those who know how to make their gadgets work. The emerging portrait: Geeks are cool. Engineering schools are also trying to do their part to hone their students' social and job-hunting skills and erase negative labels. At the University of Illinois' College of Engineering, the Technology Entrepreneur Center also offers Charm School every fall — a one-day workshop that includes tips on "office finesse" and wardrobe. Also: Sci-Tech Today (April 13), CIO Today (April 13), Brisbane Times (Australia, April 14).

COMPUTING
The Washington Post (April 10) -- Facebook announced Monday that it is acquiring Instagram, the rapidly growing mobile photo service. Photo sharing was a key driver of Facebook's growth. But photo sharing dates back a decade before Facebook, all the way back to one of the pioneers of the Web, Marc Andreessen. Andreessen has done a lot of great things for the internet, but one of the most significant was this email he wrote while at the U. of I.'s National Center for Supercomputing Applications in 1993.

TOP RETURN ON INVESTMENT
Bloomberg Businessweek (April 9) -- In Bloomberg Businessweek's latest return-on-investment calculation for college, the "investment" – or total net cost – is based on the amount spent on college over the actual time it takes students to graduate, whether four, five or six years. The magazine's ROI figures are adjusted using each school's graduation rate. In Illinois, an elite private research institution, the University of Chicago, lost the No. 1 ranking to Illinois, a state school with far lower costs. Editor's note: The U. of I. is mentioned on Page 2 of the article.
FROM LAB TO MARKET
Electronic Manufacture & Test (Tonbridge, England, April 10) -- Stretchable electronics are headed out of the lab and into the market. mc10, a start-up founded by U. of I. materials science professor John Rogers is one of the companies leading the transition.

ENGINEERING FACULTY MEMBER NAMED PROVOST
Buffalo News (New York, April 7) -- The University at Buffalo has selected a chemical engineer as its new No. 2 official at the university. Charles F. Zukoski, a former vice chancellor for research at Illinois, was announced as the university's new provost Friday. Zukoski will earn $400,000 as provost, according to the university. Also: The News-Gazette (Champaign-Urbana, Ill., April 10).

SECURITY ENGINEERS
MSN.news (April 7) -- U of I professor and current lecturer of computer security at the University of Birmingham in the UK describes huge scope of work available for security engineers.

SIRI FOUNDER
WMAQ-Channel 5 (NBC; Chicago, April 5) -- Dag Kittlaus, who founded Siri Inc. in 2007 and three years later sold the company to Apple for a reported $200 million, plans to start his next company in Chicago. He urges a "quantum entanglement between Champaign and Chicago," describing the computer science presence at the U. of I. to be "world class." Siri, the voice assistant that serves as the key new feature of the iPhone 4S released last fall, is informed in part by search technology developed by Champaign-based Wolfram Research Co. Also: Huffington Post Chicago (April 13).

WHEELCHAIR ENGINEERING
Medgadget (El Granada, Calif., April 5) -- In an interview, IntelliWheels founder Marissa Siebel said it was her partner, Scott Daigle, of the College of Engineering at Illinois, who came up with the idea for a geared wheelchair. "The University of Illinois is the leader in accessibility, a place of tremendous history and innovation in the world of disability," Siebel said. "Scott has come up with the idea of using mechanical gears to make pushing across the large campus easier when in a manual wheelchair."

WEARABLE ELECTRONICS
Fast Company (New York City, April 5) -- To survive a car race, let alone win one, a driver needs to be in top physical health. A startup called MC10 based in Cambridge, Mass., is making wearable electronics that could change the way drivers train and stay on track during races. In the future, they hope to help all kinds of athletes up their game. MC10 was spun out of materials scientist John Roger's lab at Illinois, where Rogers and his team have been designing bendable, stretchable electronics that can be unobtrusively connected to the body.

COMPUTING
R&D Magazine (Rockaway, N.J., April 3) -- The University of Pennsylvania will lead a $10 million National Science Foundation project to make computer programming faster, easier, and more intuitive. Dubbed ExCAPE (Expeditions in Computer Augmented Program Engineering), the project includes researchers from the U. of I. Also: HPC Wire (San Diego, April 3).

ELECTRONIC PATCHES MONITOR HEALTH
The Telegraph (London, April 3) -- One day soon, your doctor might prescribe you something that looks like a colorful temporary tattoo. But when you apply it to your skin you'll end up with more than an interesting pattern. Your epidermis will be coated with a gossamer-thin layer of electronics. In the short term, this tattoo will be used to monitor your well-being. But in the long term it could be used to enhance your body as part of a remarkable new phase in human evolution. The immediate potential of these patches was outlined last month at the annual American Chemical Society meeting in San Diego, by U. of I. materials science professor John Rogers. Also: DNAIndia (Mumbai, April 4).

HIGH-TECH BRIDGE REPAIR
Daily Commercial News (Markham, Ontario, April 2) -- U. of I. researchers are testing wire made of a shape-memory alloy as a means of repairing old bridges to make them stronger than they were when new.

ALUMNI'S COMPANY PURCHASED BY DELL
The Register (UK, April 2) -- PC and server maker Dell has shelled out an undisclosed sum to snap up Wyse Technologies, the volume shipper of thin clients. Wyse was founded in San Jose, California in 1981 by husband-and-wife team Bernard and Grace Tse. He was from Hong Kong and she was from Taiwan and they met while studying engineering at the University of Illinois.
____________________

PLEASE NOTE: Some web links are short-lived by design of the publisher. In most cases, articles are archived on the publisher's website and can be retrieved electronically. Some articles may be archived on sites that are fee-based, and some may have re-distribution restrictions.

If you have any questions about the College of Engineering, or other story ideas, contact Rick Kubetz, editor, Engineering Communications Office, University of Illinois at Urbana-Champaign, 217/244-7716.