News
Engineering in the News May 2012
5/1/2012 11:15:00 AM
Excerpts from Illinois in the News, a daily service provided by the University of Illinois News Bureau. This collection of May excerpts focuses on engineering topics and faculty contacted for their expertise by print and broadcast reporters around the world.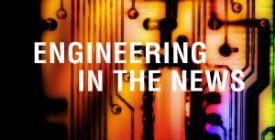 HIRING ILLINOIS GRADS
Wall Street & Technology (San Francisco, May 31) -- Steve Rubinow, CIO of FX Alliance, a leading electronic marketplace for trading foreign exchange, says, "I love to hire bright young people who are inquisitive and have knowledge about computer technology. They are not encumbered by the old ways of doing things. They bring in fresh ways of thinking." On Rubinow's list of go-to universities are the top-rated computer science schools – Illinois, UC-Berkeley, Carnegie Mellon, Stanford and MIT.

COOK STOVE EMISSIONS VARY WIDELY
The Times of India (May 30) -- The way families in developing countries use their cook stoves has a huge impact on emissions from them, and laboratory emission tests don't precisely reflect real-world operations, according to a study led by Tami Bond, a professor of civil and environmental engineering at Illinois. Also: Phys.Org (May 29), Science Codex (San Jose, Calif., May 29), EarthSky News (May 30), R&D Magazine (May 30), Futurity (May 31), United Press International (May 31).

NEW MEDICAL DEVICE CAN PEER BEHIND EARDRUM
ScienceBlog (May 29) -- Doctors can now get a peek behind the eardrum to better diagnose and treat chronic ear infections, thanks to a new medical imaging device invented by University of Illinois researchers. The device, developed by Stephen Boppart's research team, could usher in a new suite of non-invasive, 3-D diagnostic imaging tools for primary-care physicians. Also: News-Medical.net (May 30), Laser Focus World (May 29), LiveScience (May 30), Phys.Org (May 29), Health Imaging (May 30), Biomed Middle East (Dubai, United Arab Emirates, May 31), Health24.com (Cape Town, South Africa, May 30), Infection Control Today (Phoenix, May 30)
R&D Magazine (Rockaway, N.J., May 30).

SILICON AS RESISTIVE MEMORY OPTION
IEEE Spectrum (May 29) -- Seeking denser, faster alternatives to the flash memory in smartphones and digital cameras, the world's largest memory chipmakers are turning to resistive RAM, or RRAM. "Silicon-based resistive RAM can exist, and that's really exciting," says Eric Pop, an electrical and computer engineering professor at the University of Illinois at Urbana-Champaign.

THE ENGINEER GUY
Science 360 News Service (Washington, D.C., May 25) -- In a self-produced video, Bill Hammack, also known as "The Engineer Guy," explains how a coffee maker works, pumping water with almost no moving parts. Also: Makezine.com (May 25).

GOLDEN GATE BRIDGE
"NewsHour" (PBS, May 23) -- The Golden Gate Bridge turns 75 this week and remains an architectural and artistic icon. The bridge's sleek shape and spectacular technical achievement are due at least in part to Charles Ellis, a U. of I. engineering alumnus and professor, and a co-designer of the structure. But he's never gotten the credit for his work. After he had completed the design and written the specifications, he was fired, and his name was removed from all bridge and historical promotional material for more than 50 years.

KHAN & CO. RECOGNIZED BY FORD
Detroit Free Press (May 24) -- Shahid Khan left his homeland of Pakistan at age 16 to study at Illinois, where he also worked at a small automotive parts firm, Flex-N-Gate, as he earned his degree in industrial engineering. He now owns the company, which had sales of $3.4 billion last year. Today, Khan and Flex-N-Gate will be singled out for praise by Ford, for co-developing a molding process to produce plastic parts for the 2013 Ford Fusion and Lincoln MKZ models to go on sale later this year.

SUPERCOMPUTING
PC Advisor (London, May 24) -- The National Center for Supercomputing Applications at the U. of I. is rolling out a storage infrastructure that will include 380 petabytes of magnetic tape capacity and 25 petabytes of online disk storage to support Blue Waters, one of the world's most powerful supercomputers.

SOLAR POWER
The Herald-Sun (Durham, N.C., May 22) -- During a visit to a Durham-based start-up solar technology company on Tuesday, the president's top environmental adviser touted natural gas as a cheap source of electricity. Nancy Sutley, the chair of the White House Council on Environmental Quality, also said lower natural gas prices put pressure on companies such as Durham-based Semprius to drive down the cost of solar to make the technology more cost competitive. Semprius builds minuscule, highly efficient solar cells based on a method for transferring small electronics from a wafer to other substrates that was developed by John Rogers, a professor of materials science and engineering at Illinois.
Related story: ReNew Economy.com (Neutral Bay, Australia, May 29) -- Semprius, a North Carolina company co-founded by U. of I. materials scientist John Rogers, has shown that its solar panels can convert nearly 33.9 percent of the sunlight that hits them into electricity. Semprius says its technology is so efficient that it could soon make electricity cheaply enough to compete with power plants fueled by coal and natural gas.

ENGINEER GUY EXPLAINS
Engadget (New York City, May 22) -- Ever wonder how your smartphone knows up from down? Bill Hammack's (i.e., The Engineer Guy) new video gives a visual rundown of how accelerometers work. Although it's certainly the Cliff's Notes version of what's going on in your Android phone or iPhone, the video does a great job of explaining the basic concepts behind three-axis motion sensing and goes on to illustrate how MEMS chips boil the idea down to the silicon form that's needed for our mobile hardware.

MATERIALS
Nature (May 21) -- Plastic Logic, a technology company that makes flexible organic electronic circuits and displays, has announced that it is abandoning its e-reader plans and closing its development plant in the United States. Instead, the company will try to sell its flexible-display technology to other companies that might want to use it in their own products. John Rogers, a materials scientist at Illinois, who earlier described Rusnano's 2011 investment as "eye-popping", says that he's still impressed with Plastic Logic's technology. "I still think it's a very promising technology platform, even if e-readers aren't a killer app for them," he said.

HIGHER EDUCATION INVESTMENT
The New York Times (May 19) -- When we shrink investments in higher education and research, "we shoot ourselves in both feet," according to K.R. Sridhar, an Engineering at Illinois alumnus and founder of Bloom Energy, a Silicon Valley fuel-cell company.

WORLD-CHANGING TECHNOLOGIES FROM COLLEGE STUDENTS
The Boston Globe (May 17) -- Facebook creator Mark Zuckerberg who became an instant billionaire after the company's stock went public this week is just the latest example of world-changing technologies being developed by college students. Marc Andreeson, co-founder of Netscape, was a U. of I. undergraduate when he led the development of the first widely used Web browser.

CLASS of 2012 JOB OUTLOOK
National Public Radio (May 18) -- Recent Illinois aerospace engineering graduate Naja Edwards was featured on the first hour of NPR's "On Point."

REVAMPING LARGE ENGINEERING CLASSES
I-STEM Education Initiative (May 17) -- Striving to improve aspects of its undergraduate education programs by specifically targeting large courses, the College recently initiated the Strategic Instructional Initiatives Program (SIIP) "to renovate specific undergraduate courses to improve student engagement and learning outcomes."

HIRING QUANTS
Advanced Trading (May 15) -- With the demand on Wall Street for fresh talent to create automated trading strategies and code algorithms still surging, on-campus recruiting has become critical for capital markets firms looking to scoop up the next generation of quants. Unson Allen, VP and global head of recruiting at Knight Capital Group says her top 10 quant schools include the University of Illinois at Urbana Champaign, known for its computer science department.

RE-ENGINEERING ENGINEERING EDUCATION
ThreeJoy (May 15) - iFoundry co-founder and professor emeritus David Goldberg authors two blogs related to improving engineering education: Retooling Engineering Education Culture with the Keystone Habit of Listening, and Engineering Education and the Power of Vulnerability.

C-U IS A GREAT PLACE FOR GRADUATES
The Atlantic (May 14) -- In his annual listing, Richard Florida calculates Champaign-Urbana as the fourth best locale for new college graduates…right after San Jose, San Francisco, and New York.
WOMAN OF VISION
San Jose Mercury News (California, May 11) -- The Anita Borg Institute held its Women of Vision awards dinner for about 800 people earlier this month, honoring women who have made a big impact in technology. Among this year's winners is Sarita Adve, a computer science professor at the U. of I.

ENGINEERING DEAN NAMED AS PROVOST
State Journal-Register (from The Associated Press, May 11) -- The University of Illinois has chosen the dean of its College of Engineering to take over as provost, the top academic and budget official on campus. Ilesanmi Adesida will step in as provost on Aug. 16. Also: News-Gazette (Champaign-Urbana, Ill., May 10), Daily Illini (May 10), St. Louis Post-Dispatch (from AP, May 11), Muscatine Journal (from AP; Iowa, May 11), The Republic (from AP, Ind.; May 11), Chicago Tribune (AP, May 11), Daily Illini (May 13).

Related article: Des Moines Register (May 19) -- Iowa State University this month named its College of Engineering dean, Jonathan Wickert, as provost. The move comes a year after the University of Iowa appointed its engineering dean, Barry Butler (an Illinois engineering alumnus), to the same job. Iowa's universities are not alone in looking to administrators with STEM backgrounds to lead their academic efforts. The same week ISU named Wickert provost, the University of Illinois named its College of Engineering dean to the same job. Also: ASEE FirstBell (May 21), The Indianapolis Star (May 19),
AVIATION SECURITY
Reuters (May 9) -- Sheldon Jacobson, a U. of I. computer science professor and expert in aviation security, says airline security should not change in response to the bombing plot that was prevented this week. "The most important lesson to be learned from this finding is that intelligence information is what prevented this incident from escalating into an actual event," he said. "More intrusive, indiscriminate airport screening is the worst possible response, and will ultimately make the entire air system less secure for all." Also: MSN.com (May 8), Calgary Herald (May 8), Chicago Tribune (May 9), Yahoo! News UK (May 9). Editor's note: The Reuters dispatch appeared in or on hundreds of media outlets around the world.

TRAINING FUTURE NUCLEAR INDUSTRY LEADERS
Chicago Tribune (May 8) -- The University of Illinois at Urbana-Champaign is one of three Illinois universities are getting $2.8 million in federal research grants, scholarships and fellowships to train future leaders in the nuclear industry. Secretary Steven Chu says the investment will encourage innovations that will create jobs and export opportunities. The University of Illinois will get about $876,000 to develop reactor designs and technologies. Another $5,000 will fund an undergraduate scholarship for one student at the university for a degree in the nuclear field. Also: Rockford Register Star (May 8), St. Louis Post-Dispatch (May 8).

GATES GRANT
The Seattle Times (May 8) -- U. of I materials science professor John Rogers and a collaborator from California are among 100 recipients of cutting-edge global health grants from the Bill & Melinda Gates Foundation. Rogers and Todd Coleman, a professor of bioengineering at the University of California at San Diego, are developing a thin, postage-stamp-sized temporary tattoo than can record and transmit biological information such as blood flow, body temperature and blood oxygen levels, and send it to a distant doctor with the use of a mobile telephone. Also: Medical Xpress (Douglas, Isle of Man, May 9), News-Medical.net (Sydney, May 10), Medgadget (El Granada, Calif., May 18).

ALUM'S VENTURE CAPITAL FUNDS LOYALTY STARTUP
WGN radio (May 8) -- Chicago-based digital loyalty startup Belly has raised $10 million from high-profile venture capital firm Andreessen Horowitz, helping the company expand into additional markets and develop new products. Andreessen Horowitz, which also invested in Chicago-based daily deals company Groupon, was co-founded by Marc Andreessen, who is one of the University of Illinois at Urbana-Champaign's most famous tech alums. He helped create the Mosaic Web browser and co-founded Netscape.

USING LIGHT TO TRAIN MUSCLE MOVEMENT
The Verge (May 7) -- Researchers from Microsoft and the Department of Computer Science at the University of Illinois have created a prototype system helps train one's muscle movements using projected light. LightGuide uses the Kinect camera to track an arm in 3D space, and visual cues such as arrows and shadows are projected onto it to help guide the user's movements. Video features computer science student Rajinder Sodhi with colleagues demonstrating the system's attributes. Also: R&D Magazine (May 7).
AIR TRAVEL
The Wall Street Journal (May 4) -- Sheldon H. Jacobson, a professor of operations research at Illinois, comments on ideas to alleviate passenger-processing delays at airports. "One idea is to provide incentives for people to arrive at lower demand times," he says. For example, airlines could inform ticket buyers of average waiting times when they are buying flights, or even charge more for flights arriving at peak times, and less for those that land when immigration halls are empty.

ROBOTIC BIRD CAN PERCH
GigaOM.com (May 1) -- By the virtue of their size and speed, birds are uniquely capable of efficient flight while flapping their wings and while gliding. Researchers at the University of Illinois at Urbana-Champaign have duplicated the control functions that allow birds to successfully perform a soft landing—in this case, perching on a human hand (see video). Also: ScienceBlog (May 1), Engaget (New York City, May 2), Phys.org (May 3), Daily Mail (UK, May 2), The Engineer (UK, May 3), IEEE Spectrum (May 3), Wired.com.uk (UK, May 3), Kurzweil (May 3), Gizmag (May 3), Discovery Channel-Canada (May 3; story begins at 5:45 min. into program), Discovery News (May 4), CNET (San Francisco, May 4), Slate (May 4), Boing Boing (May 7), Futurity (May 8), Stuff.co.nz (May 10), Sydney Morning Herald (Austrailia, May 10), Brisbane Times (Austrailia, May 10), Mechanical Engineering magazine (May 16), Ubergizmo (May 17), Crain's Chicago Business (May 28).

PARKING APPS
Crain's Chicago Business (May 1) -- Created by the Chicago firm AI Incube, the smartphone app FasPark aims to help drivers find parking spaces. A map shows nearby streets and the odds of finding parking spaces there. "We combine information from many sources," says CEO Eyal Amir, a professor of computer science and artificial intelligence at the U. of I.
BODY WEIGHT AND GASOLINE CONSUMPTION
Red Orbit.com (Dallas, May 1) -- U. of I. computer science professor Sheldon Jacobson calculated that an additional 938 million gallons of gasoline are consumed each year as a result of overweight and obesity in the United States. Also: Kuwait Times (Shuwaikh, May 1), HelpingYouCare (May 1), The Vancouver Sun (British Columbia, May 1), The Car Connection (May 2), Gulf Times (Doha, Qatar, May 3), The Deseret News (Salt Lake City, May 8).
___________________

PLEASE NOTE: Some web links are short-lived by design of the publisher. In most cases, articles are archived on the publisher's website and can be retrieved electronically. Some articles may be archived on sites that are fee-based, and some may have re-distribution restrictions.

If you have any questions about the College of Engineering, or other story ideas, contact Rick Kubetz, editor, Engineering Communications Office, University of Illinois at Urbana-Champaign, 217/244-7716.