News
Engineering at Illinois looking for Blue Waters Professors
11/29/2012 9:47:00 AM
Blue Waters, one of the most powerful supercomputers in the world, is up and running at, the University of Illinois at Urbana-Champaign. As part of the Visioning Future Excellence at Illinois initiative, the College of Engineering is currently hiring several Blue Waters Professors. These faculty members will receive substantial allocations on the supercomputer and expedited access to the system.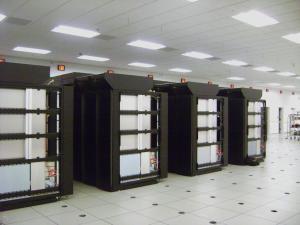 "The allocation available to Blue Waters professors and others at Illinois exceeds the computing resources available to any other U.S. university by an order of magnitude," explained Michael Bragg, interim dean in the College of Engineering. "Engineering at Illinois is one of the Top 5 engineering programs globally, and Blue Waters will be a very special resource for those who use computational modeling in their research. It's an unprecedented opportunity. We plan to take advantage of it, and we know these new Blue Waters Professors will do the same."
Funded by the National Science Foundation in partnership with the University of Illinois, Blue Waters is capable of sustained performance of one petaflop (one quadrillion calculations per second) on a range of real-world science and engineering applications.
Blue Waters faculty appointments will be made to individual departments within the College of Engineering, and prospective faculty of all ranks are encouraged to apply.
"We're creating a community who will use this extraordinary capability to address society's most challenging problems," said William Gropp, the Paul and Cynthia Saylor Professor of Computer Science at Illinois and one of the principal investigators on the Blue Waters project. "Scientists around the country will use Blue Waters to understand the building blocks of the universe, the fundamentals of geophysics, and new nanotechnologies and materials. We expect these Blue Waters Professors to be among the vanguard of that group."

According to Bragg, ideal candidates are expert in computational modeling and simulation; work with models that scale to tens to hundreds of thousands of cores, and focus on the most pressing issues in engineering and in society.
For more information on the Blue Waters supercomputer: www.ncsa.illinois.edu/BlueWaters.
To apply for a Blue Waters faculty position: engineering.illinois.edu/bluewaters.
____________________
Contact: William Gropp, Blue Waters, 217-244-6720.

If you have any questions about the College of Engineering, or other story ideas, contact Rick Kubetz, writer/editor, Engineering Communications Office, University of Illinois at Urbana-Champaign, 217/244-7716.