News
Engineering core courses get major overhaul
5/30/2013 11:24:00 AM
Every discipline on every campus has them, beginning level core courses that are major hurdles for students. Instead of just simply acknowledging those issues exist, last year the University of Illinois College of Engineering instituted the Strategic Instructional Initiatives Program (SIIP) to give faculty incentives for major overhauls of these challenging classes, not only to make them more enjoyable for both faculty and students, but give those students a better chance of success.
The $1 million-a-year program funded by the College is a two-year refurbishment of a set of core courses within a given department. The first recipients were awarded for the 2012-13 school year and the results have been quite positive.
"There were many people who have wanted to make some changes to these classes for a long time," said Elif Ertekin, assistant professor of mechanical science and engineering (MechSE). "Many of us had some nice creative ideas, but I think SIIP really gave us a mechanism to bring everybody together in a focused manner and really start thinking about what we wanted to do."
Ertekin teamed with fellow MechSE professors Matthew West and Daniel Tortorelli to make significant upgrades to TAM 210/211 (Statics), TAM 212 (Dynamics) and TAM 251 (Solid Mechanics), which collectively serves over 2,000 students from many engineering departments and provides foundational mechanics concepts. The team was one of five SIIP faculty team recipients selected in the program's first year with an additional six to be awarded for the 2013-2014 academic year.
The MechSE team began its focus on the dynamics course.
"This is the first introduction to engineering that students get," Ertekin explained. "It's the first time they are responsible for integrating what they've learned in their introductory physics classes and their vector calculus classes and applying them to engineering systems."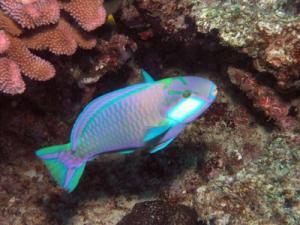 A Bleeker's Parrotfish (Chlorurus bleekeri), swimming in front of coral in Fiji, is an example of a four-bar linkage. Image credit: Image reef4416 from NOAA's Coral Kingdom Collection by Julie Bedford. (Public domain, U.S. Federal Government).
The team developed a website of visual applets which takes a concept from class and provides visual real-world applications. For instance, in helping to explain
four-bar linkages
, the site provides examples of the pump jack, bicycle pedaling or the jaw of a parrotfish. The visual for
rigid body analysis
to determine how much to bank a road in order for a car to get around a curve is the Mercedes-Benz test track.
"We center a lot of our discussions around these applications and use videos to reinforce these ideas," Ertekin said. "What we wanted to do was make the material more accessible and more interesting to students, formulating it to real-world applications that they can connect a little more readily to. We wanted to also make it more fun to instructors as well."
Another change involved having students working in teams to solve problems during the discussion section instead of teaching assistants simply providing sample problems to solve.
"The students were very hesitant about this idea at the beginning," Ertekin said. "They were nervous that their grade would depend on somebody else and a few suggested they should petition to change this. But by the time the mid-semester came around, we surveyed them and most of them said not only did they really love the discussion sections, they were learning the most there. Historically attendance in discussion sections was pretty low (less than half), but we this year were running at about 90 percent."
The idea of teamwork doesn't end when class is completed either. The MechSE faculty group took existing ideas currently used by other departments to provide improvements to TAM 212. The first is the introduction of Piazza forums, which are used in computer science courses. Students can go online to post questions about a concept or a homework assignment and expect an answer from a professor or TA within about 20 minutes. The professors gave course credit to fellow students who were especially helpful on Piazza and Ertekin reported that by the end of the semester, the process practically ran itself because students were so responsive to each other.
Another new initiative in TAM 212 was that much of the homework was done online through a system developed by the physics department where students enter answers and instantly are told if they are right and provided hints if they are not.
"Historically students open up a textbook, come to a problem and get stuck," Ertekin said. "Now there is instant feedback."
One of the major benefits of SIIP is encouraging faculty to work in teams and bounce ideas off of each other.
To help explain, rigid body analysis, instructors of TAM 212 used this Setra S 411 HD coach on the Mercedes-Benz Untertürkheim test track. Image source: Daimler Global Media Site.
"The project involves a huge amount of work," West said. "However, it's so much better to work in a team where everyone is enthusiastic and coming up with good ideas. The students picked up on that engaged dynamic from a faculty-teaching team and made us even more enthusiastic. Once we got through this positive feedback cycle, everything was great."
"We are encouraging faculty to be more critical in the way they think about how the teaching occurs," added Bruce Litchfield, the director of the SIIP program. "The funded teams become a part of the SIIP community that works on revising sets of classes then reporting back to others in the community. We hope that trying things, learning from it and reporting back to one another will help raise the level of instruction."
In order to test the effectiveness of the changes, the MechSE group has collected data and used the results of student surveys to positively validate the changes with the results closely tracked and reported.
"I taught the class 3½ years ago and it was the worst student feedback I've ever gotten from a class and also the most unpleasant class to teach," West said. "This semester has been one my favorite classes I've ever taught. The students have really enjoyed it."
One student wrote, "I love how [the lectures] go through applications in real life which really makes me happy. Real life applications are greatly appreciated."
"We heard from a someone who took the course for the second time comment that the whole environment was infinitely better than it was before," Ertekin added. "We are hearing comments from students who had already taken TAM 212 that they were sorry they had already taken it and weren't able to do it again."
"We've gained a lot of good information and insight about how students learn and perform," West said. "I consider this the first big step of this continued process. Through measurement and assessment, I hope we can now continue and spring these ideas to other courses."
The program itself challenges several paradigms that have existed for a number of years.
"The notion that courses are owned by the instructor, while true enough in the past, we know doesn't work in the long run," said Litchfield. "If the instructor leaves or if it's passed to someone else, the energy and the expertise could be lost. Physics has been a great model for us by renovating introductory courses with the premise they are departmental courses with teams of people to teach them. There is a nice ripple effect that as professors rotate through teaching those courses, they're exposed to good instructional techniques and best practices they can take with them to other instructional duties."
Secondly, Litchfield says that instead of having "weed-out courses," the College is providing a means for students to succeed in those challenging classes.
"At our first-year Launch event, we tell students, 'Look to you left, look to your right, each of you can help others succeed. You are part of a community, and strong relationships within that community will help you successfully transition from high school to college.' We tell them explicitly, we are also here to help you succeed."
"Another component has been motivating students," West said. "The ones that are coming in now are a little different than they were 40 years ago and yet we were teaching basically the same material in the same way. We are now trying to interface to the sort of things they are expecting and also provide them exposure to real-world engineering systems."
"The students we attract here are very bright and motivated," Ertekin added. "As faculty, we need to match that motivation."
Litchfield says that SIIP fits in with other recently added programs in the College of Engineering like iFoundry and IEFX and believes it will be a model for other reforms on campus.
"It will take a few years to study the changes we made in the specific classes here," Litchfield concluded, "but on the other hand, almost all the things we're doing are proven and evidenced-based approaches to instruction."
________________________
If you have any questions about the College of Engineering, or other story ideas, contact Mike Koon, writer/editor, Engineering Communications Office, University of Illinois at Urbana-Champaign, 217/244-1256.