News
Illinois students take their Solar Decathlon skills to China for 2013
6/19/2013 2:17:00 PM
Building a house anywhere is fraught with decisions, delays, and surprises. Now imagine that you are building a one-of-a-kind model solar home in China. It's all part of the Solar Decathlon China, the fourth such competition for University of Illinois students.
Watch Video
The University of Illinois is the only school to be invited to each of the past three Solar Decathlon international events hosted in the United States, taking home 2nd (2009), 7th (2011) and 9th (2007) place, in those biennial competitions, respectively. This year, however, instead of fielding a house in the United States competition to be held in California later this fall, the Illinois group elected instead to partner with Peking University to enter in the first ever Solar Decathlon competition held in China.
This month the first of the 22 Illinois students involved will begin their journey to the Far East to assemble the 1,000-square foot home, dubbed "Etho" with students from Peking. The Peking-Illinois entry will serve as the signature home for Solar Decathlon China, which will be held August 2-12 in Datong, about a four-hour drive from Beijing.
The U.S. Department of Energy initiated the program in 2002, challenging 20 teams of college and university students from around the world to design and build energy efficient solar powered homes,
Illinois is one of four United States universities to form an international partnership for the Datong event, which includes 22 entrants from 13 countries (Australia, Belgium, China, Egypt, England, Iran, Israel, Malaysia, Singapore, Sweden, Switzerland, Turkey and the United States). The teams will be judged on 10 categories–architecture, market appeal, engineering, communications, solar application, comfort zone, hot water, appliances, home entertainment and energy balance. The Peking-Illinois entry will be given a score, but will not be eligible for placing because they are the showcase home for the event.
Each team receives $100,000 in start-up money from the China National Energy Administration and the U.S. Department of Energy, but must look to other sources to come up with the remainder of the funding. Peking University is covering much of the cost of this project, but because of Illinois' strong reputation PKU chose to partner with Illinois, which has been responsible for the majority of the design concepts.
"Some of our biggest challenges were building a modular house in a country that doesn't do a lot of modular construction and building it mainly out of wood, which they don't have a lot over there," said Kevin Donovan, the project manager in his second year of pursing a dual master's degree in architecture and construction management.
Students Mike Wang, project engineer; Zak Helmick, architectural lead; and Kevin Donovan, project manager, share Etho plans with reporters.
Illinois students are also playing a big role in sourcing the materials from around the world, shipping the doors and windows from Germany (Unilux), the appliances from China (Whirlpool), skylights from Taiwan (Taiwan University of Technology) and much of the interior and exterior finishes from the United States (Metal Tech USA).
The project from the conceptual stage to building takes two years. Although Illinois prepared all the construction documents, they sent them to Peking for their input. Much of the design of the building, including the interior courtyard dining room, was done with the culture in mind.
"The Chinese culture has a connection with nature, being peaceful and staying consistent," said Zak Helmick, the architectural lead who just completed a master's degree in architecture. "Chinese homes often have courtyards to provide that tie with nature. The concept is one of Peking University's strongest influences to the design of the house."
"We wanted to demonstrate a house that had initial quality, which meant a little bit of cost at the onset, but something that could be passed down to generations," Donovan said. "That is important in the Chinese culture."
"I think the biggest challenges have been communication between the two countries and working together with students from the other side of the globe," said Xinlei Wang, associate professor of agricultural & biological engineering and the team's faculty advisor. "Although English is the official language for this project, our students have some incentive to learn Chinese too."
Illinois sent 10 students to Peking last summer for collaboration efforts and another three there for a separate workshop and has been continually communicating with its Chinese partner.
The house itself is divided into three modules that will be constructed in Peking then dissembled for shipment to Datong on July 14. After two weeks of final testing, the team will be ready for the VIP day on Aug. 2, marking the competition's opening. In addition to the judging, they will host a dinner party and movie night among other events.
The team is pushing the envelope when it comes to design, including creating its own home automation interface, which can control temperature and lighting from a computerized tablet or I-Pad
"We will be able to monitor water use, temperature and the solar radiation," said Mike Wang, a graduate student in mechanical engineering and the Etho project engineer. "We will also be able to control the climate in the home autonomously. Other sensors will also tell the homeowner if windows or doors were left open or are unlocked."
"It is a high-quality envelope with nice materials that are long-lasting and an open floor plan, which is rare in China," added Donovan. "The home has an attention to detail. We have put thought into every single room."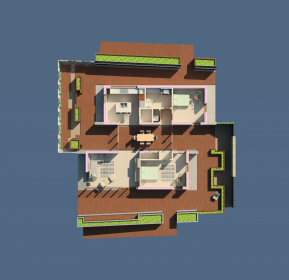 Other features of the house include:
• Exterior roof and walls made out of bamboo and zinc consisting of 46 percent recycled material that will last against anything short of acid rain
• Structural Insulated Panel (SIP) walls filled with 8 ¼" of expanded polystyrene insulation with a cavity of phase-change materials (PCM), which can change from a solid to gel depending on the temperature and has a thermal storage capacity greater than concrete
• Triple-paned insulated windows with the fourth pane containing an imbedded motorized blind system and a 15-foot long triple-paned sliding glass door
• Two big courtyards on either side of the house with a middle modular dining room containing a skylight, an interior green wall with vertical grow lights, and a 46x6-foot wall with two million perforations forming the images of a mountain and a tree
• Modern appliances, including a self-contained washer/dryer, cooking surface with a ventless hood, a steam oven and dishwasher
• Magnetic LED light pucks embedded in a single-sided rail on all ceilings. The lights can change colors for different seasons/moods.
"A lot of decathlon houses tend to go minimal on anything that can produce energy," Donovan said. "We chose to create a house that a family could live in. This home is a balance between efficiency and features that make the house more comfortable. We hopefully have demonstrated how to implement an irregular footprint, but do it responsibly and be able to manage it."
"Knowing that there aren't many single-family homes in China, we targeted a client that would buy this house and live there for a while," added Helmick.
In addition to helping the world find more efficient power sources and cutting edge home features, being a part of the project has long-range implications for the students involved.
"In the long run, it will be a big help for their future career in the global economy," Xinlei Wang said. "This is an excellent opportunity for them to adapt to the culture difference and work together. "
"As an aspiring academic, the opportunity to work with engineers from all disciplines has been an amazing experience," Mike Wang said. "I have learned more from the team members than I can give to them."
"It has meant a lot of international contacts and the ability to design a house the way you feel it should be done without the restrictions a client may put on you," Donovan added. "You're able to use what you know and what you've been able to learn to provide a snapshot of what you think are the best sustainable materials and technologies in the world."
______________________________
If you have any questions about the College of Engineering, or other story ideas, contact Mike Koon, writer/editor, Engineering Communications Office, University of Illinois at Urbana-Champaign, 217/244-1256.