News
Winners Announced for 2017 WYSE State Finals
4/25/2017
The Worldwide Youth in Science and Engineering (WYSE) Academic Challenge concluded its State Finals, and two of the team champions hail from Champaign County. Over 1,500 students from 228 schools across the state of Illinois descended on the I-Hotel for the annual event sponsored by the University of Illinois College of Engineering. Mahomet-Seymour (1500 Division) and University High School (300 Unboundaried Division) joined Gallatin County (300 Boundaried), Byron (700 Boundaried), University of Chicago Lab Schools (700 Unboundaried), and Naperville North (Unlimited) as team state champions.
To reach the state finals, teams had to advance past Regional and Sectional competition.
Teams competed in 14-member varsity teams or as individual at-large competitors. Each student took two exams. There are seven subject areas from which each student chose their two tests -- biology, chemistry, computer science, engineering graphics, English, mathematics and physics. The materials for tests are drawn from senior high school and freshman level college curricula and are written by teams of college and university faculty. Each test production team produces three tests of increasing levels of difficulty for the regional, sectional and state finals.
Here are the state results:
Individual and Team Award Photos
Unlimited Division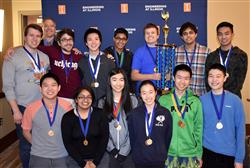 Team Results:
1. Naperville North
2. Hinsdale Central
3. Stevenson
4. New Trier
5. Barrington

Individual Category Winners
Biology – Sabrina Meng, Rockford Auburn
Chemistry – Jason Yang, New Trier
Computer Science – Gabe Cohen, Niles West; Arnav Sankaran, Hinsdale Central
Engineering Graphics – Hamilton Silberg, Barrington
English – Jamie Dela Cruz, O'Fallon; Jakob Myers, Naperville North
Math - Jason Xia, Naperville North
Physics – Jiedong Duan, Niles North; Jason Xia, Naperville North

Division 1500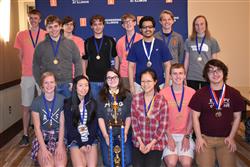 Team Results
1. Mahomet-Seymour
2. Fenwick
3. Dunlap
4. Carbondale
5. Richmond-Burton

Individual Category Winners
Biology - Alyssa Massman, Woodstock North
Chemistry – Annie Qiu – Prairie Ridge
Computer Science – Maxwell Jong, Dunlap
Engineering Graphics – William Taylor, Woodstock North
English – Julia Evancho, Dunlapl Matthew Tremblay, Prairie Ridge
Math – Maxwell Jong, Dunlap; Nick Morrow, Mahomet-Seymour
Physics – Jaden Lucas, Carbondale

Division 700
Boundaried Team Results
1. Byron
2. Carlinville
3. Pleasant Plains
4. Johnsburg
5. Maroa-Forsyth
Unboundaried Team Results
1. University of Chicago Lab School
2. Normal U-High
3. Wheaton Academy
4. Timothy Christian
5. Marmion

Individual Category Winners
Biology – Daniel Eul, Aurora Central Catholic
Chemistry – Alena Culbertson and Rohan Kamatar, University High School
Computer Science – Alex Gajewski, University of Chicago Lab School
Engineering Graphics – Jack Vandermolen, Timothy Christian
English - Yasir Hasnain, Maroa-Forsyth; John Stegeman, Sacred Heart-Griffin
Math – Elbert Du, University of Chicago Lab School
Physics – Keith Mokry, Marmion; Seth Wyma, Wheaton Academy

Division 300

Boundaried Team Results

1. Gallatin County
2. Christopher
3. Brimfield
4. Pecatonica
5. Cumberland

Unboundaried Team Results

1. Urbana University High
2. Elgin Academy
3. Islamic Foundation School
4. College Preparatory School of America
5. Universal High School

Individual Category Winners
Biology - Hoda Mohmoud, Universal High School
Chemistry – Prudhie Gudapati, Elgin Academy; Samer Wahood, Islamic Foundation School; Levi Williams, Keith Country Day School
Computer Science – Reed Phillips, University High School
English – Emily Gibson, University High School
Engineering Graphics – Braden Scherer, Marquette Academy
Math – Anshul Adve, University High School
Physics – Sameul Guo, University High School