News
Paul Tucker selected as featured speaker for fall commencement
12/6/2017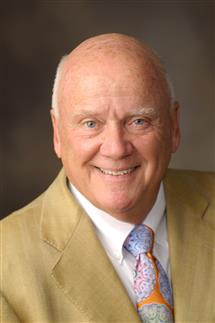 Dr. Paul T. Tucker, a University of Illinois graduate in electrical engineering, former Illinois faculty member, and the retired Corporate Vice President for Computer Science Corporation, has been selected as the featured speaker for fall commencement which will be at 1 pm December 23 at the Krannert Center for the Performing Arts.

After graduating from the University of Illinois with a BS, MS, and PhD all in Electrical Engineering, Tucker served as associate professor and senior research engineer in the College of Engineering for over 10 years. During his tenure as faculty, he was a core member of the team that designed and developed strategic portions of PLATO, the first generalized computer-assisted instruction system, and managed broad implementation and installation of over 1,000 terminals. His efforts were rewarded with three licensed technology patents.

Outside of academia, Tucker is a proven and accomplished executive and entrepreneur with over 35 years of information technology experience, ranging from Fortune 500 companies to launching and building successful entrepreneurial ventures. He was founder, partner, and primary design engineer for HAL Communications Corp, a small, growing, entrepreneurial communication technology company. He went on to join Knight-Ridder Financial, advancing from senior vice president for technology-commodity news services to chief executive officer and president. Following Knight-Ridder, he joined Computer Sciences Corporation as corporate vice president, retiring in 2008 after 12 years with the organization.

Tucker currently serves on the College of Engineering's Board of Visitors, an advisory board to the dean of the college. He also serves on the University of Illinois Foundation Board of Directors as well as the Carle Foundation Board of Directors.