News
Illinois Engineering hosts FIRST LEGO League state competition Saturday
1/23/2018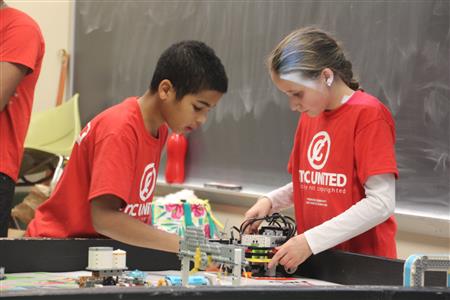 The University of Illinois College of Engineering will host a FIRST (For Inspiration and Recognition of Science and Technology) Illinois Robotics LEGO League state competition Saturday, January 27, at the Activities and Recreation Center (ARC) on campus. The "Tesla" championship tournament brings together 50 teams of youth in grades 4-8 to test their skills in building an autonomous robot to perform tasks using LEGO Mindstorms technology.

The teams, organized primarily through schools or neighborhoods, include four from the Champaign area – Dauntless, TNC United, Curious Fireflies (coached by Illinois computer science professor Josep Torrelas), and Marine Machines. They advanced to the state finals through one of 25 regional competitions, which attracted over 500 teams across the Land of Lincoln. The Illinois "Tesla" championship tournament is one of three statewide and the only one outside the Chicago area.

Each team has built a robot from a standard LEGO Mindstorm kit to perform up to 8-10 predetermined tasks around eight structures on a 4'x8' piece of plywood. Teams earn points for every task performed within two minutes and 30 seconds. The robots can return to "base" to be modified between each task. They are also judged on how technically well they build their robot, on a project they present solving problems around each year's theme (Hydrodynamics in 2018), and on core values such as teamwork and sportsmanship.

The overall winner advances to one of the FIRST LEGO League World Festivals where teams from around the globe compete. This year's World Festivals are April 18-21 in Houston and April 25-28 in Detroit.

"The competition is like an Erector's set on steroids," said Joe Muskin, visiting education coordinator for the Department of Mechanical Science and Engineering and the coordinator of the local event. "It's fantastic that we are exposing these future engineers to the University. Hopefully the experience will fuel their excitement for engineering."

Admission to the competition is free. The public may enter through the east door of the ARC to Gym 1. The robot performance matches run from 12:15-4:05 pm with the awards ceremony slated for 5:15 pm.