News
BioE, ECE Alumna to Deliver 2018 Engineering Convocation Address
5/3/2018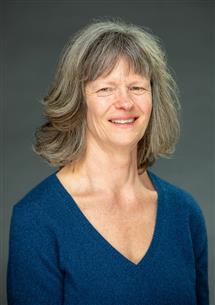 Bioengineering
and
Electrical and Computer Engineering
alumna, Gale Beanblossom (BS '80, MS '82) will be the 2018 College of Engineering Convocation speaker.
Gale holds a bachelor's degree in biology with a concentration in bioengineering from the College of Liberal Arts and Sciences at Illinois. After graduation, she pursued a master's degree in electrical engineering from Illinois.
Upon receiving her master's degree, Gale started her career in the aerospace engineering industry, where she worked for more than 32 years. Throughout her career, she held many roles, including working as a digital design engineer focused on ASIC design, as a major defense program engineering manager, and as a senior electrical skills manager at The Boeing Company. Gale retired from Boeing in late 2014.
Gale is passionate about helping students pursue careers in engineering. She knows that a great education lays the foundation for a successful career as an engineer. Gale's education impacted her life in so many ways both professional and personally, and because of this, she gives back to Illinois in many different ways. Gale was a former member of the ECE Alumni Board and she is currently a member of the University of Illinois Foundation. She received the Marcia Peterman Award, established by the ECE Alumni Board, for her dedicated service as a board member.
As a retiree, Gale enjoys coaching and mentoring students on resume writing and interviewing. All of the students that she has coached have landed an internship. When she's not busy helping students, she enjoys staying active and has been engaged in the fitness profession for more than 35 years. Gale is a certified personal trainer and group exercise instructor.
Gale and her husband, Todd (BS '80; MS '82) met during graduate school at Illinois. They enjoy visiting campus often to attend ECE events, the University of Illinois Foundation weekend, and for Illini football games, where they are season ticket holders.
The campus-wide Commencement ceremony will take place at Memorial Stadium on Saturday, May 12, 2018. The Illinois Engineering Convocation ceremony will take place later that day at the State Farm Center.