News
Freshman Spotlight: Alberto Davila
3/3/2014
Editor's Note: This is one in a series of stories on freshmen making an impact on Engineering at Illinois and who have been identified through the Illinois Engineering First-year Experience (IEFX) program.
Major: Aerospace Engineering
Hometown: Joliet, Ill.
Involement: SHPE (Society of Hispanic Professional Engineers), IRIS (Illinois Robotics in Space)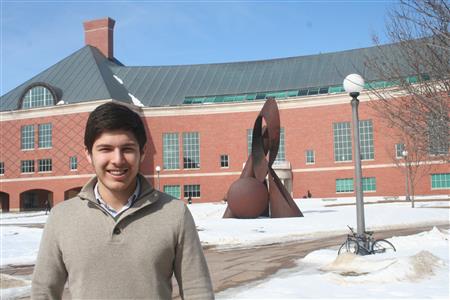 What have you enjoyed about your classes so far?
"I like that I'm finishing up required courses and am looking forward to technical classes. My favorite class so far was actually Calculus III because the professor was so energetic and motivated. That makes all the difference because his motivation radiates out to the students and so I looked forward to class."
Why aerospace engineering?
"I've always wanted to be an astronaut. I realize NASA has strict requirements. But I want to help out with NASA's missions in any way that I can."
What drew you to Engineering at Illinois?
"I really had no idea about what I was getting into. I learned about Illinois through SHPE's high school visitation weekend. It's when I realized that this was the place to be."
What was the IEFX Summer Scholars program like?
"In the program you are allowed to pick an elective and I decided to take CS 101. Though it's not required for my major it gives me an advantage over other applicants when it comes to job interviews. I was talking to some upperclassmen in aerospace and they were amazed to hear that I already had that experience coming into my first academic year."
What are you involved with outside the classroom?
"I am the internal vice-president of the freshman class of SHPE. Also last semester I was involved with IRIS's CAD team. We designed a robot that could collect regolith (dust on Mars) and go through an obstacle course similar to the Martian terrain."
What are you looking forward to during your time at Illinois?
"I'm looking forward to organizing the high school visitation weekend with SHPE because it's what helped me make the decision to come to Illinois. It's when I felt I belonged here. I want to give future freshman the same experience."
What advice would you give to a high school student?
"I'd say definitely come visit the campus and have conversations. Don't just apply. Come see and get talking to Illinois students so you can hear about their experience."
What are your plans after graduation?
"Being an astronaut is the dream that got me here. But I'll probably go into aircraft design or satellite design. I know for sure that I want to my career to have to do with space."