News
ECE Alum's App Provides Instant Translation of Foreign Languages
5/20/2014
Illinois alum Ryan Rogowski made news again last week as the company he co-founded, Waygo, announced it had rolled out an app for the Android and told an audience at the Global Mobile Internet Conference (GMIC) that he eventually sees the app adding languages and working in the Google Glass Environment.
Rogowski co-founded Waygo, an app that allows users to hover their mobile devices over Chinese or Japanese words (with more lanaguages to come) and have their English translation instantly appear over them. Earning a Bachelor of Science degree in electrical and computer engineering and a bachelor of arts in Spanish and linguistics, he credits his Illinois roots for giving him the foundation to launch and build his successful business so quickly.

"One of the things that you have to be able to do as an entrepreneur is learn quickly and teach yourself very real skills on the go," Rogowski said. "Aside from the technical background, Illinois taught me how to figure something out and be able to take actionable steps right away."

Rogowski explored image and video processing research under professor Pierre Moulin and studied signal processing under professor Doug Jones.

He was a part of the first sponsored trip of the campus' Technology Entrepreneur Center (tec.illinois.edu) to Silicon Valley. There he met the likes of Max Levchin, the Illinois computer science alum who helped develop PayPal and Yelp. Rogowski said that trip helped foster his entrepreneurship ideas.

The genesis for the Waygo app started while still at Illinois when Rogowski and fellow student Chun Ming Chin built a basic prototype through a character recognition (OCR) algorithm, which could be used on a web camera connected to the PC.

"We prototyped the algorithms and then connected the camera driver to the web cam," Rogowski said. "You could point that camera at Chinese characters and it would do dictionary look-ups. We both had studied signal processing, but we were learning about OCR on our own."

Rogowski and Chin became the first team to represent the University Illinois at the Rice Business Plan Competition and also participated in the TEC's Cozad New Venture Competition.

Despite not knowing Chinese, Rogowski used a work visa to move to Beijing following graduation and help build games for the I-Phone in an environment where there were no English speakers. He took a six-week summer course in the language prior to making the move and eventually passed the HSK (Hanyu Shuiping Kaoshi) Chinese Proficiency Test.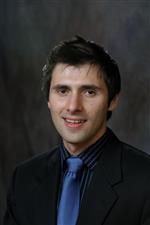 Rogowski continued to occasionally work with Chin on the prototype, but after a year in China, decided to take all his efforts into making the translation app a reality.

"It was in Beijing that I felt the 'aha' moment," Rogowski said. "I realized this could be a very real product that could solve a real need. I came to the realization that I really like challenging engineering problems. The Waygo project is also at the intersection of culture and language that I'm very interested in."

He moved to Rhode Island, where the project got some early funding from Betaspring, and connected with the two people that would join him as Waygo's co-founders, Huan-Yu Wu and Kevin Clark.

In the summer of 2011, the team completed the basic prototype of the Chinese OCR and discovered how to do take the previous work on the PC and apply it to the iPhone. They continued to make progress while doing website development on the side. In the spring of 2012, the algorithm pieces fell into place and after some clean up, they pushed it out on the app store.

"We were starting to see some user growth, but it wasn't a full product yet," Rogowski said. "Although it was just the beta version, we wanted to see if it worked in the real world and get some instant feedback."

The next break came when the team met Dave McClure of 500 Startups Accelerator.

"He saw the app and the potential for the market, invited us to join this accelerator and invested some money in the company so we could focus 100 percent of our efforts again on Waygo," Rogowski recalled.

The team joined the 500 accelerator during the fall and winter of 2012-13 and moved its operation to Silicon Valley. They were able to get insight into the travel industry, whose clients would benefit from Waygo, and how to more effectively market the product.

Once they had grown their users enough, they decided to search for angel investors and raised over $900,000 through such sources as Angel Vest from Shanghai and Golden Gate Ventures based in Singapore. The funding enabled Waygo to increase staff by hiring a language processing expert and a director of marketing and growth.

Over the last 12 months, Waygo has not only emerged as a viable product, but has also expanded its reach and received some impressive notoriety. They won the best start-up award at the 2013 Echelon competition in Singapore and claimed the top prize in the Entertainment and Content Technologies category at this year's South-by-Southwest (SXSW) Accelerator competition, that was announced in March.

Earlier this year, Waygo added Japanese as a supported language and plans to not only add more in the near future (focusing primarily on Asian languages), but translate those languages from English.

Rogowski is of course proud of the recent addition of Android to go along with iOS as a supported platform because "it's very hard to support both in such an algorithm intensive application."

Waygo continues to be the only instant visual translation service for Asian characters on the marketplace and its users have made over one million translations since its launch. The team has had a lot of positive feedback; including one response from a customer that said it was exciting all they could experience on a backpacking trip to western China because of a tool like Waygo.

"As an early entrepreneur, you go through so many days where you wonder if what you're doing will make it or if people will like it," Rogowski said. "I wanted to build something that would make a difference to humanity and break down language barriers to enable people to see more of the world. We're so happy we have helped change so many experiences for the better through Waygo."